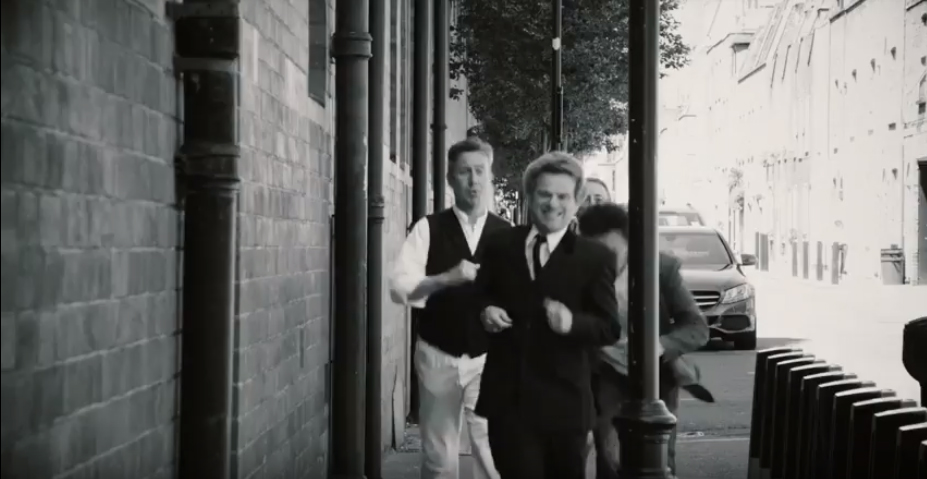 Tuesdays and Saturdays at 11am
From Marylebone Underground (Bakerloo Line)
Meet outside the main archway entrance of Marylebone Station
In Conjunction with
London Walks
 'London's Best Guided Walks' – 
Time Out.
The tour lasts just over two hours and costs £15 for adults; £10 for full-time students and over 65s: £5 for Children under 15 .
Please book your place at least 2 hours before the start time.
Join us on our Beatles walking tour – Abbey Road and More

"There are places I'll remember all my life", sang the Beatles in one of their most evocative songs.
Many of those places are on this London Beatles Tour
So get back with Richard to the place where the opening scenes for A Hard Day's Night were filmed
the restaurant featured in Help!
the former Apple Shop which had the psychedelic mural painted on the wall
the registry office where two of the Beatles were married
the apartment immortalised by Ringo, John and Yoko where the infamous "Two Virgins" picture was taken
we'll also see the house where Paul lived with Jane Asher. Those were the days … for it was in that house that John and Paul wrote I Want To Hold Your Hand.
And for a grand finale – the legendary Abbey Road studios and crosswalk
Reviews:
"RICHARD Porter is the smartest man in Britain – at least when it comes to The Beatles. In reality, considering the Sixties pop scene was a hotbed of sex and psychedelic drugs, he probably knows more about The Beatles than the remaining members of the Fab Four can remember themselves." Brian Crisp National Travel Editor, Escape
"When it comes to possessing a thorough knowledge of the movements of the Beatles, there are few who can surpass Richard Porter. Dubbed the "Beatles Brain of Britain," his personal kinship with John, Paul, George and Ringo makes the London tours he conducts for London Walks some of the most popular in the city. After more than 20 years and guiding around 150,000 visitors, Richard's lead is the one to heed. His personal knowledge adds an element of credibility that is unavailable elsewhere."  USA Today
"The walls in front of the famous studios are smeared with a million cliches, long-standing graffiti proclaiming the fans' undying love. Here, several years ago, Paul McCartney appeared while Porter was doing his tour. Springing cheerily from his limo, Paul consorted with the fans before vamoosing to cut his album. Porter had captured the moment. Snap! We are agog. For there it is: Paul looking cherubic. As does Porter, standing before us now, irrepressible, and so likable that you wish you could set him to music. Will lightning strike twice? Will a Beatle casually materialise? But Porter is talking again, more facts, more memorabilia. Yeah, yeah, yeah." Traveller
Five Star Reviews on Trip Advisor!
Best Beatles Walk
If you are a Beatles fan then you will love touring London with Richard P! My family had the pleasure of joining Richard on the Beatles "In My Life" walk and enjoyed every moment. The tour is very informative and hits many great spots such as John and Yoko's home, film locations for Beatles movies, and ends at Abbey Road. Richard is knowledgeable, projects well so you can hear every word he says, and takes great care to make sure the tour stays safe and together when walking down the streets of London. I want to go back to London just to experience more tours with this company!
Beatles Brain of Britain
"My wife is a HUGE Beatles fan (I am not far behind) and I wanted to take her on a Beatles tour of London that would be both informative and moving. Richard delivered the goods in spades.
Not only is he incredibly knowledgeable and passionate, he is very thorough and caring: he takes care of his guests all the way through his tour, making sure everyone gets to savor each little delicious nugget of Beatles history and inside information.
I knew this was a success from the start of the tour but when my wife started crying at a particularly poignant anecdote from Richard, I realized that the 'In My Life' tour was actually a home run: highly recommended!
Thank you, Richard!!!"
By Richard Porter, author of 'Guide to the Beatles' London' and Beatles tour guide in London. For more on his book and tours, click here
The ground floor and basement apartment of 34 Montagu Square looks like any other in the area. However, the Chicago Tribune has called it 'The ultimate rock n roll pad'. That's because it had associations with three Beatles, Jimi Hendrix, Chas Chandler and god knows how many other rock stars who passed though it non-descript front door.
Ringo Starr moved into the apartment in 1965 with new wife Maureen. The area has always been quite hip and Ringo had Mick Jagger and his then girlfriend Chrissie Shrimpton as virtual next door neighbours – they lived just around the corner in Bryanston Mews East.
Maureen was heavily pregnant when they moved in and gave birth to her first son, Zak, at Queen Charlotte's hospital, Hammersmith, on 13th September 1965. Alf Bicknell, the Beatles chauffeur, remembers getting a call from Ringo at 2am that morning to come to collect Maureen from Montagu Square and take her to the hospital.
Ringo and Paul, who lived in nearby Wimpole Street, left from 34 Montagu Square to go to Buckingham Palace to receive their MBE medals, together with John and George.
The flat was decorated by Brian Epstein's interior designer, Ken Partridge, in early 60s camp pop star style with purple watered-silk wallpaper, silk curtains and lead-streaked mirrors.
Ringo moved out of Montagu Square after only a few months and into a large house in Weybridge, but kept hold of the apartment as a London base and also so friends could use it. In 1966 Paul McCartney used the basement of the apartment to build a small recording studio.
In his book Paul McCartney – Many Years From Now, Barry Miles recalled that Paul was getting friendly with members of the avant garde and underground art movements. Paul wanted to start a facility for poets and avant garde musicians to record their work. That way a lively exchange of tapes would happen between these people. Paul often let his friends such as author William Burroughs, art gallery owner Robert Fraser, and filmmaker Anthony Balch use the studio to make their weird experimental recordings. Paul also used the studio to work on his own songs such as Eleanor Rigby. The tape operator of the studio was Ian Sommerville, a good friend of Barry Miles. Ian moved into the flat with his boyfriend Alan. In the end the idea for the studio fell through, as Ian got the idea the studio was only for Paul McCartney. The equipment was removed and Ian moved out of the flat.
On 6th December 1966 Ringo let the apartment to Chas Chandler, the former bass player of the Animals. Chas had just discovered a guitarist in a small club in Greenwich Village, New York, and decided to become his manager and bring him to England. His name was Jimi Hendrix. When Chas moved into Montagu Square with his girlfriend, Lotta, Jimi and his girlfriend, Kathy Etchingham, moved in too.
Jimi and Kathy had lots of rock star friends and would invite them to Montagu Square for parties. They also had a rather stormy relationship. After one spectacular row Kathy stormed out and didn't return until the next day. When she came back she asked Jimi what he'd been doing while she was away. Jimi handed her a piece of paper with the lyrics of a song he'd written called The Wind Cries Mary. Mary was Kathy's middle name, which she hated and Jimi only used it to annoy her.
After a while the neighbours started complaining about the noise coming from the flat and Jimi and Kathy were asked to leave.
After Jimi and Kathy moved out, the apartment was used by Lillian Powell, Cynthia Lennon's mother. That arrangement changed when Cynthia caught John with Yoko Ono at their house in Weybridge, called 'Kenwood'. Cynthia briefly moved in with her mother. Cynthia went on holiday to Italy, but was shadowed by a private detective, hired by John. Within five minutes of her arrival back at Montagu Square there was a knock on the door and a solicitor handed her a writ for divorce, citing HER adultery. Cynthia immediately counter-sued.
Finally, John moved out of Kenwood and into the Montagu Square apartment and Cynthia moved briefly back to Kenwood, which was eventually sold as part of the divorce settlement.
Soon after arriving in Montagu Square John and Yoko asked Apple assistant Tony Bramwell to come to the flat with a camera and go away before any pictures were taken. They then photographed themselves naked and put the pictures on the cover of their LP Unfinished Music Volume One, better known as Two Virgins.
Nudity on LP covers was certainly not common and when the Chairman of EMI, Sir Joseph Lockwood, was shown the photos, he was horrified. John and Yoko were summoned to explain themselves. When John was asked about his motives, he said it was artistic – shocking people was an art form. At this Sir Joe got really angry, he said to John, 'If you were doing this for art you could at least put some better looking bodies on the cover – why not get Paul to do it – or use statues from a park!'
Time Out later lampooned the Two Virgin's cover picture and drugs bust on one of their famous covers. Over John's 'private parts' is a sticker that says 'Member of the British Empire' – the name of the medal the Beatles were given a few years earlier. Coming out of John's mouth is a speech balloon that says 'It's no good officer – it won't stand up in court!'
A few weeks later the apartment was raided by the police and John and Yoko were arrested for possession of cannabis. Apparently John received a telephone call from a journalist friend to tell him the police were going to come, so he called his old friend Pete Shotton to help him clear the apartment of anything incriminating.
The police still found some cannabis in the apartment. John later said the drugs could have been planted by the police – in fact the leader of the police team Sgt Norman Pilcher was later arrested himself for perverting the course of justice. It was also very suspicious that a press photographer was present to take a picture of John being led out of his flat by the police.
At the time Yoko was heavily pregnant with John's child. However, in November 1968 Yoko was rushed from the apartment to hospital where she suffered a painful miscarriage.
John decided to plead guilty to the drugs charge to keep Yoko off the charge, as she could have been deported if found guilty of drugs possession. Also the police said they would drop the obstruction charges. John was only fined about £100 and thought it was the end of the matter but, when John and Yoko moved to America in 1971 the conviction came back to haunt him. He wanted to stay in the States, but the Immigration Service tried to deport him because of
the conviction.
Later it emerged that the Nixon administration were illegally trying to get John out of the country, as John was campaigning against the Vietnam war. John's fight to stay in America lasted for four years until he was finally given his Green Card in 1976.
Regrettably, after John's conviction Ringo was forced by the landlords to sell the apartment, so ending the Beatles' brief but extremely eventful time here.
In October 2010 Yoko Ono unveiled an English Heritage Blue Plaque to John Lennon at 34 Montagu Square. I was lucky enough to be invited to the unveiling. Hundreds of fans gathered to hear Yoko make a short speech, along with Beatles biographer Hunter Davies, and members of English Heritage, who sponsor the plaques.
A while ago a musician called Ed McKendry came on my tour – and wrote a song about it! His band The Difference – which is the corporate band of "Air Products in the USA, recorded the song on their CD "Songs I Always Wanted to do". Below are the lyrics of the song, printed by kind permission of Ed.

Walking with Richard

Words and music: Ed McKendry. Performed by: The Difference
He traveled alone, to Marylebone, hey-hey
He's walking with Richard today
Little bit o' rain won't turn him away, hey-hey
He's walking with Richard today

ChorusSaturday in London town
He's a long way from home
He's taking the tour to see the fab four, hey-hey
He's walking with Richard today
Collarless suit, black Beatle boots, oh-yeah
He's making pretend today
He'll cross Abbey Road like numbers untold, oh-yeah
He's walking with Richard today
MAP
-->