April 20, 2018
0 Comments
April 20th 1964 – Filming: Paul McCartney's unused scene in A Hard Day's Night
Paul McCartney filmed a solo sequence for The Beatles' debut feature film A Hard Day's Night on this day. However, it was omitted from the final cut.
The premise was that McCartney was looking for Ringo Starr, who had gone missing temporarily. McCartney discovered a rehearsal room where he had a conversation with an actress, played by 18-year-old Isla Blair. It was filmed at the Jack Billings TV School of Dancing at 18 Goldhawk Road in London, above what was then The Bush pub, on Shepherds Bush Green.
The scene, however, remained unused. There have been many reasons put forward to why this was, mainly centering on it not fitting in with the rest of the film. However, I heard something different. In 2001,  I was asked along to Twickenham Film Studios by Director, Martin Lewis, to help with the bonus DVD of a Hard Day's Night. One day the crew got together, and the next day the cast, to reminisce about their time on the film.
During the filming, I was told by 2 different people that worked on the film that the real reason this scene was cut was that Isla Blair was wearing a very low cut dress, and Paul kept on looking where he shouldn't be! Well, he's always been a breast man!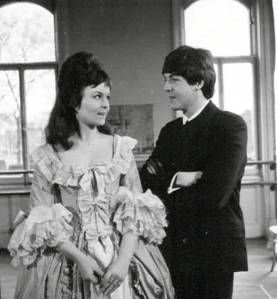 Tags:
A Hard Day's Night
,
Beatles
,
Isla Blair
,
Paul McCartney