"Without Lead Belly, no Lonnie Donegan, without Lonnie Donegan, no Beatles." – George Harrison.
July 13th 1954 – one of the most important recording sessions in British rock and pop history – by a Jazz Band!
The Chris Barber Jazz Band record an album for Decca at their studios in West Hampstead. The album is called New Orleans Joys.
Part way through the recording, the band realise they don't have enough songs to make a full album, so they retire to the Railway Hotel pub next door to discuss what to do. They decide to record some songs they do live as a 'Breakdown Group' – this was a part of their concerts when they would allow the brass section a break and play some paired down music, bringing the guitar player to the front (it was seen as a percussion instrument before this) and have double bass (or improvised tea chest bass) and washboard, which would be played using thimbles.
Chris Barber decided he would play bass, and Lonnie Donegan would play guitar. Washboard player Beryl Bryden was called up and summoned to come to the studio from her home in nearby Maida Vale.
One of the songs they recorded was 'Rock Island Line' which had been popularised by Huddy Leadbetter, better known as 'Lead Belly'. It was sang by Lonnie Donegan
The album went on to sell a few thousand copies, not bad for a jazz album, and 'Rock Island Line' just seen as an album track. Things changed though, nearly 2 years later. Bill Haley had a UK number one hit with Rock Around the Clock and record companies tried to find a similar record which would have the same impact. Decca then remembered about 'Rock Island Line' and released it as a single, credited to The Lonnie Donegan Skiffle Group. It became a huge hit record in the UK, and also ironically, in the US. More importantly, 'Rock Island Line' and other 'skiffle' songs, inspired thousands of British teenagers to start their own skiffle bands. The bands only need one cheap guitar, and the rest of the instruments could be adapted from household implements. Each song only had 3 or 4 chords to learn, so it was easy to play too. Guitar sales went up from about 2000 a year to 200,000 a year.
Amongst those who played in skiffle bands included: John Lennon, Paul McCartney, George Harrison, Ringo Starr, Mick Jagger, Van Morrison, Jimmy Page, Rod Stewart, Dave Davies etc etc etc.
Skiffle itself died out. Lonnie Donegan went on record novelty songs, but others went onto other things :>)
"Without Lead Belly, no Lonnie Donegan, without Lonnie Donegan, no Beatles." – George Harrison.
https://www.youtube.com/watch?v=g7col8uqIQQ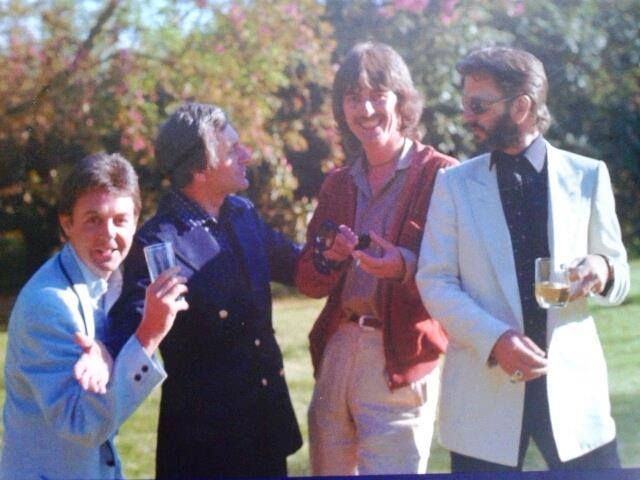 Lon, Paul, George and Ringo?  3 Beatles with  Lonnie Donegan – at Eric and Pattie Clapton's wedding reception, 1979.
P.S. Elvis Presley's version of 'That's Alright' was recorded at Sun Studios in Memphis on July 5th 1954 – just 8 days before this session :>)
Blogger Richard Porter is a full time Beatles tour guide in London. For more on his tours, see http://www.beatlesinlondon.com
Tags:
Beatles
,
Lonnie Donegan
,
Quarrymen
,
Rock Island Line