January 30, 2020
0 Comments
On the Anniversary of the Beatles Rooftop Concert – I wanted to share this story written by Esther Shafer, my late wife, about the time we went on the roof of 3 Savile Row. Esther passed away in December 2000
The rooftops of Mayfair looked exactly as they did in Let it Be As we stood on the rooftop of 3 Savile Row on that beautiful September day, I tried to imagine myself at The Beatles final concert. The rooftop was smaller than I'd imagined, but in general the that I remembered from the film and photographs looked just like I'd pictured them.
Naturally, the privilege of being 'on the roof' was one of my most exciting Beatley experiences ever. The moment was doubly special, however, as I was sharing it with the man who was to become my future husband. Although this was early in our courtship. we made sure to have our picture taken at the spot where John and Yoko were photographed, when officially changed his name to John Ono Lennon.
England is full of beautiful places for two Beatles fans to fall in love. Fittingly, Richard and I first met as he was guiding his Beatles walk, on December 31st 1989. Coincidentally, we first spoke to each other in front of the Indica Art Gallery in Mason's Yard where John and Yoko first met. If there had been no London Beatles Fanclub I doubt we would have talked to each other but, since Richard was giving out applications to join the club, I had a reason to speak to him. At the time I didn't expect to return to London in the near future, as I'd waited so many years to make the trip, so I thought the club would simply be a way for me to relive my memories of London through other people's eyes. Yet, because of the club, our friendship developed through letters first and then telephone calls. Besides being Beatles fans, we discovered we had so much in common that we knew we must see each other again and that's how I came to be on the rooftop on that special day.
As one might easily guess, seeing Beatley sights is the perfect 'date' for Beatles fans. Since Richard had been a Beatles guide, he enjoyed showing me Beatley sights as much as I enjoyed seeing them. Nothing can compare with the experience of seeing The Cavern and Mendips for the first time. Yet, some of the more out of the way places can be just as exciting. They are harder to find but a bit like discovering a hidden treasure. While in Liverpool, we 'wandered through Speke, trying to find Paul and George's former houses, as well as the British Legion Club where The Rebels (George's first band) played. We never did find Upton Green or Ardwick Road, but the unchanged look of the neighbourhood and friendliness of the people trying to give us directions enabled me to imagine Speke as it was when Paul and George lived there. And while taking a photograph outside Paul's former home on Western Avenue, we were invited in by the current residents for a cup of tea and reminiscences about the McCartney family!
We are married now, and our love of exploring Beatle sights continues. A walk on a Sunday afternoon led us to Ailsa Avenue in Twickenham, site of the fabs' doorways in Help and The Turks Head Pub in St Margarets, where Ringo plays darts in A Hard Day's Night. And a long drive through the country bought us to Friar park, Henley on Thames.
I'm sure one memory that will be difficult to top was Paul's surprise concert at the Mean Fiddler in Harlesden on May 10 1991. Paul couldn't have known, but playing 'Here There and Everywhere' and 'I've Just Seen a Face' was his wedding present to us.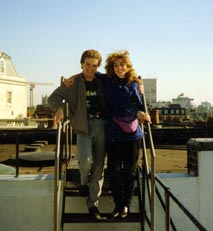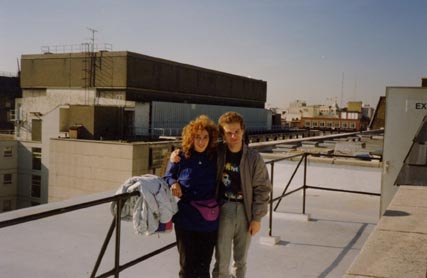 Tags:
Bealtes
,
Beatles
,
Beatles rooftop
,
Let it Be