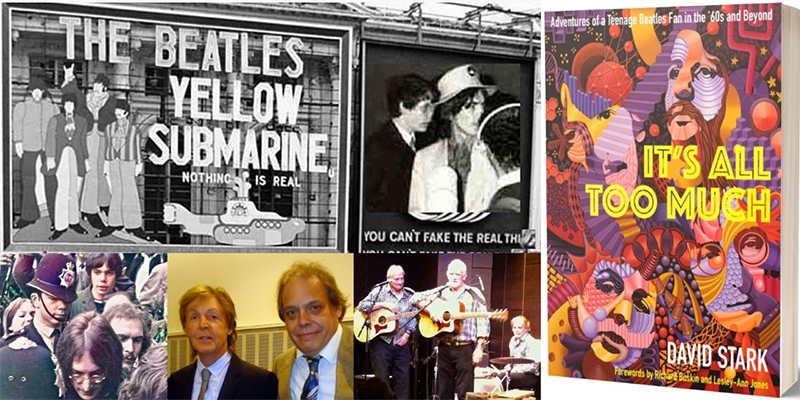 Join Richard Porter and David Stark of Songlink for the unique interactive experience!
This online tour is a unique opportunity to meet David Stark, Editor of SongLink International and drummer with the Trembling Wilburys – who also played with The Quarrymen on one memorable occasion!
David was lucky enough to meet all the Beatles during the '60s, as he relates in his recently-published book It's All Too Much – Adventures of a Teenage Beatles fan in the '60s and Beyond, which has been great reviews – see www.itsalltoomuch.net David is the special guest on this virtual tour, which visits some of the many locations in which he either met or saw the Beatles as a group or individually. From first seeing them at Hammersmith Odeon in Another Beatles Christmas Show in January 1965, to gate-crashing the world premiere of the Yellow Submarine film at the London Pavilion in July 1968, and winning tickets to their planned live TV show in January 1969 (which never happened as they played the rooftop show instead) and much more, David has some amazing memories which delight and astound you!!
---
David Stark, our guest on the virtual tour next Sunday, was very lucky that his childhood and teenage years coincided with Beatlemania. He just kept being at the right place at the right time. David grew up in North West London, and met a Beatle for the first time when he was 13. One day, in 1966, he cycled to Abbey Road to meet a friend, a fellow Beatles fan who excited him with stories of numerous Beatles encounters. While hanging out with fans outside the EMI studios, he left his bike against the studio gates. Presently they saw John Lennon's Rolls Royce Phantom approaching, with a loud speaker projecting John's voice out on the street.
Find out what John said to David, and why David still has that day firmly imprinted in his mind, on our virtual tour.
———————————————————————————————————–
David Stark's first encounter with a Beatle was not the only momentous experience at 13. At the same time he got to know and love the drums. Having seen a drum kit at his friend's house, David fell in love with them at first sight, and went to do become a dedicated drummer.
He's played with a few tribute bands, including the long-running Dave
Stark Five and the John Lennon Experience, as well as recently guesting with the
Quarrymen. He is founder and drummer of the Trembling Wilburys, the superb 7-piece band, which is the UK's first & best tribute to rock supergroup the Traveling Wilburys.  It features a line-up of top vocalists and musicians who perfectly recreate the unique sound & style of the amazing band created in 1988 by George Harrison, Roy Orbison, Bob Dylan, Tom Petty and Jeff Lynne.
Join us for Meet The Beatles: David Stark's London virtual tour, when David will share his experience and insight into the world of famous musicians.
---
David has worked in the music business for over thirty years, for such companies as DJM (Dick James Music), Decca Records (where he was international press officer), MAM Records (head of international promotions), Billboard / Music & Media, MIRO (Music Industry Research Organization) and various other music industry and pro-audio magazines, before launching SongLink International in 1993. He also acts as an official research consultant to the UK's Ivor Novello Awards; the annual World Music Awards (formerly in Monte Carlo, now in Los Angeles); and is a member of the voting academy of the UK's Brit Awards.
A huge music fan since the 60's, David has some amazing stories and items of personal memorabilia from meeting many top artists, including all of the Beatles on various occasions, and attending hundreds of concerts and other music events for the past 40 years. Highlights include seeing Jimi Hendrix six times, including at the Royal Albert Hall and the Isle of Wight 1970 festival; the Rolling Stones many times at Hyde Park, Wembley, the Lyceum, Giants Stadium and elsewhere; seeing over 150 gigs by The Who since 1967, plus memorable gigs by Led Zeppelin, Pink Floyd, Steely Dan, the Eagles, Fleetwood Mac, Allman Brothers, Steve Miller, David Bowie, Queen, Elton John, Crosby, Stills, Nash & Young, Bob Dylan, Grateful Dead, Santana, Lou Reed, Rod Stewart, The Faces and many others – he was even at one of the Sex Pistols' legendary gigs at The 100 Club in 1976. Other highlights include seeing Frank Sinatra, Sammy Davis Jr. and Liza Minnelli at the RFH; meeting Brian Wilson and the Beach Boys; attending the CMA Awards in Nashville and meeting George Jones and Vince Gill among others; dining with Celine Dion at the World Music Awards; hanging with Bonnie Raitt, Beth Nielsen Chapman, Mick Fleetwood and others at "Music Bridges" in Havana, Cuba (1999) and seeing Buena Vista Social Club live with Ry Cooder, also in Havana… the list goes on.
Join us to hear some of David's most special memories
——————————————-
David Stark, my guest on the virtual tour on 14th March, had many encounters with people close to the Beatles. One of the most poignant ones was when he met John Lennon's Aunt Mimi in 1981, eight months after John's death. She was still in shock after hearing of the tragedy, but she warmed up to David, and his memories are of a caring and down to earth woman without airs or graces. She spoke to David of John and herself, at a very difficult time, and David felt that his being there helped her come to terms with what happened.
Hear David reminiscing of this very special encounter, and his own family connections with the name "Mimi" on this tour.
—————————————————————————————————
On top of this credentials as a Beatles fan, drummer and music industry veteran, David is a brilliant and inspirational songwriter. Here is one of his, a Beatles tribute song called Fab Gear – Remember (Gold Songs).
In 1993 David founded SongLink, a music industry tipsheet service for music publishers and songwriters, SongLink (www.songlink.com), which provides monthly listings ("leads") about recording artists looking for songs or co-writers. He has built SongLink up from small beginnings to a recognised worldwide brand name, and has made many friends and industry contacts over the years, hence his reputation as the man who knows (almost!) everyone in the music industry.
——————————————————————————————————-
It was from David Stark's activities and experience as a songwriter and music veteran that he got involved with LIPA – Liverpool Institute for Performing Arts, founded by Paul McCartney.
David gives out a special SongLink songwriting prize every year, when he chooses the two most deserving young songwriters. Every graduation day Paul McCartney is there too – he is very much involved with LIPA and its students.
"I never knew you'd done all that', – Paul said to David once.
Join us for David's insight into LIPA and his meetings with Paul McCartney.
---
This is a live online tour, and that there will be a Q & A session at the end. It is a great opportunity to meet fans from around the world!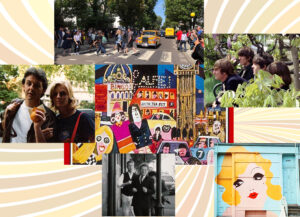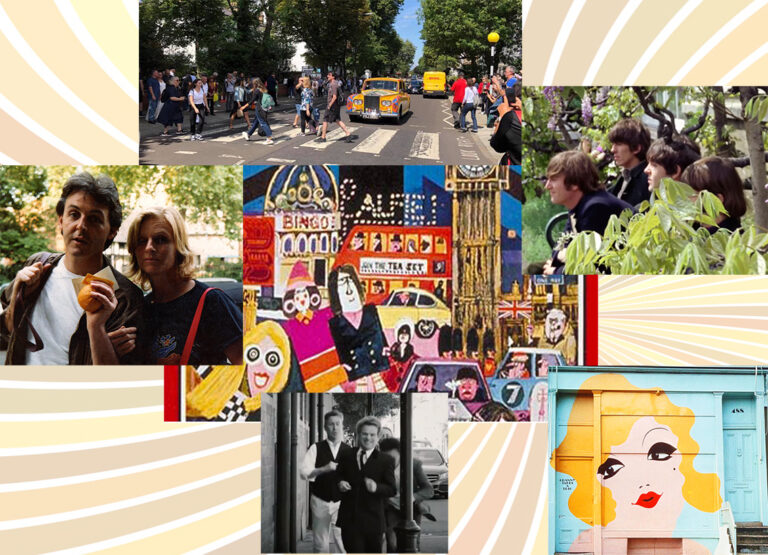 For more virtual tours and online experiences, visit our home page 
I am Richard Porter, author of the book Guide to the Beatles London; writer and presenter of The Beatles' London' DVD; and a guide of 30 years experience. I was the President of the London Beatles Fan Club for 10 years and was a former winner of the 'Beatles Brain of Britain' competition. I organised the celebrations for the 50th anniversary of the Beatles crossing Abbey Road, and was on the committee that erected a blue plaque to commemorate the Beatles famous 'Rooftop concert' at 3 Savile Row. In short, I am Super Fanatical Beatles Fan!
#beatlesvirtualtours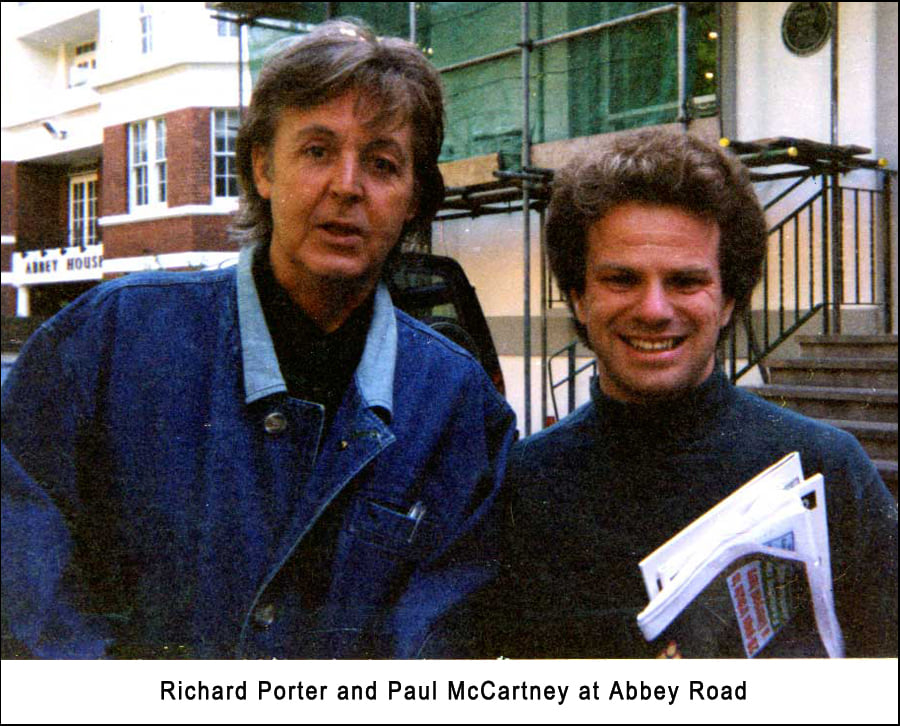 -->