In the second part of his great review – James Ward continues the story of Paul McCartney's 'secret gig' at the Cavern Club.
Something I didn't mention in part one of my review was when Paul stopped the gig very early in the set (during Twenty Flight Rock, if I remember rightly…) to comment on the fact a few people had took their phones out of their pockets and started taking photos and filming the show. I think he was completely in the right to do so. There were posters outside and inside The Cavern with 'NO PHONES' emblazoned on them and going into the venue we were told numerous times by staff and security that we weren't to take any photos or videos of the gig. We also knew that the whole thing (like the Abbey Road gig the week before) was going to be professionally filmed, so we'll be able to watch it all back at some point and it'll be a lot better quality than through a mobile phone camera. I thought to myself 'fair enough!', we're all massively lucky enough to be inside of The Cavern watching history being made, FOR FREE, so the last thing we all could do is play by the rules. And that's exactly what Paul pointed out. He didn't shout or scream, he just reminded people to play by the rules because it was putting him off. A cheer ensued, and we were back rocking again!
The first of Paul's new Egypt Station tracks was next on the setlist in the form of 'Come On To Me', it seems like it's been in the set for years even though it's only just been released! Everybody was singing along to it as if it was a Beatles hit from the '60s! I hope that's a good sign for the commercial success of the upcoming album.
They stayed with the rocking theme after that too, belting out the groovy Wings tune 'Let Me Roll It' and Beatles 'Let It Be' era song 'I've Got A Feeling', with Paul taking on lead guitar duties for parts of both tracks. So, that was a crazy opening to any gig, nine absolute rockers, and apparently the temperature was above 40C down there in that legendary little room, sweltering but amazing! Paul noted the fact it was extremely hot and jokingly said 'everybody warm enough?' I puffed my cheeks out as if to say 'not half!' and he caught sight of me doing it and puffed his cheeks out too to agree! My claim to fame? Just after that somebody shouted 'are you getting the drinks in for everybody, Paul?' Paul laughed and told security to 'have that man removed' – everybody was having such a great time, the banter was fantastic throughout, so down to earth!
Paul took to the piano after that opening barrage of rock and roll to play the delicate and thoughtful recent song 'My Valentine' which he dedicated to his wife, Nancy. The pace was quickly up again though as Paul stayed at the piano to bomb through Wings hit '1985' and Beatles classic 'Lady Madonna', which drew a massive cheer from the audience. After that, we were treated to the first song Paul ever recorded as part of The Quarrymen in 1958, 'In Spite Of All The Danger'. He told a funny story before playing it saying that it was a great novelty for them as young, budding musicians to have an acetate disc with their recording on it. It cost them 17 shillings and sixpence to make! He said everyone in the band agreed to keep it for one week before passing it on to the next. 'I had it for a week, John had it for a week, George had it for a week, Colin had it for a week then John Lowe kept it for twenty odd years!' That drew hearty laughter from the audience who were hanging on his every word!
Another couple of Beatles hits followed in the little acoustic set, 'Things We Said Today' and 'Love Me Do', with Paul telling the story of how George Martin had asked him to sing the 'love me do' line instead of John (because John was on harmonica duties) and how nervous he was about it! He said jokingly 'listen to that original recording and listen to my voice waivering with nerves!' Next up was another brand new unheard
song from Egypt Station, 'Confidante' which he says is about a neglected acoustic guitar which he really ought to be playing. There was some great banter with the crowd throughout the whole gig but before this tune Paul said about how his acoustic guitar was his confidante and friend in the early days and how he'd never put it down, to which someone exclaimed 'your only friend?!' which even drew big laughs from Paul and his band. 'Does anybody have a birthday in the audience?' Paul exclaimed before the next tune, unfortunately I don't think anybody actually did! It was only an audience of about 200 though, so I suppose it was a bit of a long shot. 'Any birthdays SOON?' he went on to say, people shouting random days back at him, 'well, this one is for you then!' 'Birthday', The Beatles 1968 rocker from 'The White Album' was next, started by the fantastic drummer Abe Laboriel, Jnr copying the legendary fills of Sir Ringo Starr, followed by third new song WHO CARES. 'Who Cares' is a straight up rocker, Rusty starting off the song with some distorted sounds coming from his amplifier before the band launch into a chuggy 'Junior's Farm'-esque foot tapper which takes on the subject of bullying, 'who cares what the idiots say? who cares about you… I do!' I seriously can't wait to hear the recorded version to see what Greg Kurstin and Paul have came up with! The last new song to be introduced into the set was FUH YOU, which was a tongue in cheek number playing around with the pronounciation of fuh and you… if you get what I mean. It seemed to me to have a slight hip hop feel to it in the chorus, with a repeated bass line and falsetto vocals, it was catchy enough but I think this was the weakest of the four new songs from Egypt Station, which isn't a bad thing, I just thought the other three tracks were a lot stronger and this track seemed to
rely heavily on the play on words. The audience were delighted though with a final barrage of McCartney penned hits from through the years. A mass singalong of two Beatles hits 'Get Back' led into 'Ob-la-di Obla-da' and they had everybody bouncing and two Wings hits finished off the main part of the set in the form of 'Band On The Run', and 'Hi, Hi, Hi'. There's always such a big cheer when the acoustic guitar starts the third part of Band On The Run, 'well, the rain exploded with a mighty crash!' Paul looked visibly nostalgic as he launched into 'I Saw Her Standing There', 'one, two, three, FOUR' just like on the record, almost sixty years ago. The Beatles would've been playing this fresh track in 1963 to people as they danced and sung along, just like in 2018. A phenonemon like this will not be seen again. What an incredible feat. People both young and old yelled and shouted every word of every song (barring the super duper brand new ones) back to him for over two hours- sometimes even during the brand new songs when they'd picked up the chorus! The band made their way off the stage to rapturous applause, it seemed as if the crowd had just been screaming all the way through the gig and clapping and dancing. We
all clapped and shouted for 'MORE' and they bounded back onto the stage to launch into the timeless 'Sgt. Peppers' Lonely Hearts Club Band (Reprise)' and segueing almost seamlessly into an absolutely stomping version of 'Helter Skelter', an absolutely massive helping of heavy rock and roll, it certainly produced a lot of headbanging and people donning their air guitars, hollering the lyrics right back at the band, devil horns aloft in the air!
After the gig had finished and Paul had told us that he'd see us next time, we all made our way back up the steps to street level to let The Cavern Club go about it's normal business (like that was ever going to happen soon?). There were a lot of journalists waiting for the first fans to leave to pounce and ask them what they thought about the gig. I saw Matt Everitt from BBC Radio 6 Music (amongst others), and I was interviewed by a girl from the Press Association. I've watched the video back quite a few times now and I still look as starstruck as I was then and that was a week ago! I rambled for about a minute about how amazing everything was, whilst still a bit dazed from what had happened, but it was great to be in the thick of it all! After I'd taken in a bit more of the melee that was Mathew Street (seriously, there were many hundreds if not thousands of people milling about all over just trying to catch a glimpse of Paul!) I went back around the corner to see if I could see Paul driving back out again in his car. We all waited there for about one hour or so, but security told us after that that Paul had exited the opposite way to which he had arrived. I don't blame him really, it would've been a nightmare for him driving through so many people! It was a truly fantastic day and I couldn't have asked for it to go any better I don't think? Lady Luck was definitely on my side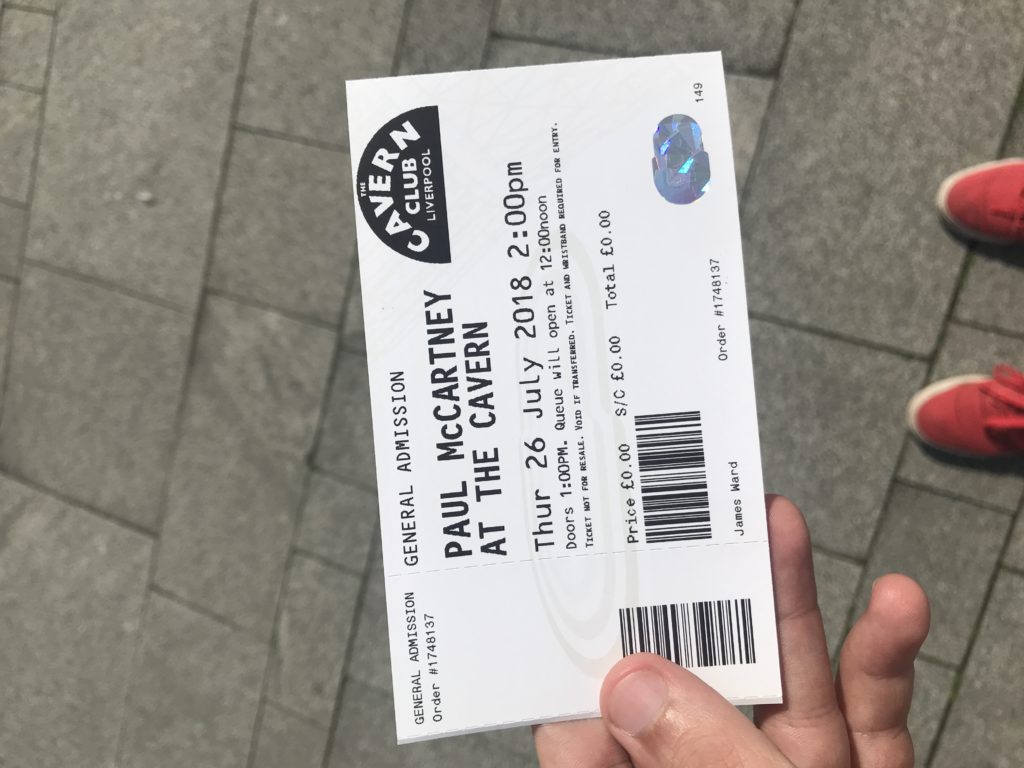 Cavern Club
,
Liverpool
,
Paul McCartney