October 2, 2018
1 Comment
October 2nd 2012 – a day I will never forget. A day I attended 2 very memorable events, with Paul McCartney at both!!
The afternoon was the memorial service to Victor Spinetti at St Paul's Church, Covent Garden. Victor had died a few weeks before. I had got to know Victor quite well through various Beatles conventions, and interviewed him for the British Beatles Fan Club at the City Barge pub, that features in Help! I later found out that my birth mother was born only a mile or so from Victor in South Wales, and used to buy fish and chips in the Spinetti family's fish and chip shop!
Victor had a profound effect on me, especially when I first met him at the 1981 Beatles Convention in Liverpool. I was very sad to hear about his passing, and was determined to attend his memorial service. I rang the church a few days before and told of my family connection, and was invited along.
I was amazed when I got there to see so many famous faces.
It was a lovely occasion, moving at times, but in the main, a wonderful fun celebration of Victor's life. The tone was set by Fr. Simon Grigg, who said that during his life, Victor was an atheist – but now he knows different!
The programme was a mixture of song and readings, plus very nice tributes to Victor from Barbara Windsor and Jim Davidson.
The musical highlight was Michael Ball singing 'In My Life'. As he put it, with one of the composers sitting feet away from him.
Fenella Fielding read John Lennon's poem, Fat Budgie, to celebrate Victor's collaboration with John on the play 'In His Own Write'.
Paul McCartney arrived at the church just before the service started. It seems that he initially didn't think he was going to make it, and sent a written tribute to be read out. Instead he read it himself.
He remembered at one of the Beatles first meetings with Victor, he told them to look at a cloud in the sky and that he would make it go away – and it did! Paul said that, when thinking of Victor that morning, he tried to do the same thing. However the cloud he got didn't go away, it just got bigger and bigger. Paul joked that it was actually Victor.
Barbara Windsor, who was one of Victor's best friends, remembered when they were both in a touring stage show, and due to lack of rooms, had to share a bed in a hotel. Barbara, then the 'sex bomb' of the 'Carry On' films etc, said she never felt so safe in her life! Of course, Victor was gay.
The service lasted about an 75 minutes and we left the church to a recording of the Beatles' Magical Mystery Tour.
Afterwards I was mingling outside, when Paul McCartney came up to me, shook my hand and said "Hi Richard, how are you going, haven't seen you for a while." It's nice he remembers me :>)
Although everyone was sad about Victor's passing, the service was very funny in places – and Fr. Grigg said at the end that he'd never heard so many 'F' words in a church before!
A lovely service for a lovely man.
A section of the service – including Paul  McCartney's speech https://www.youtube.com/watch?v=PFfsPFkjTEQ&playnext=1&list=PL03C5D18AB9E99DCF&feature=results_video
You can see me in the audience at about 7 mins 4 seconds :>)
A report on the service http://www.dailymail.co.uk/tvshowbiz/article-2211815/Actor-Victor-Spinetti-star-Beatles-films-died-aged-82-cancer-battle.html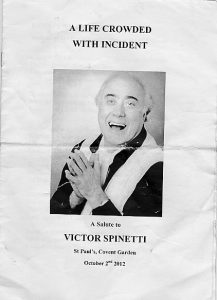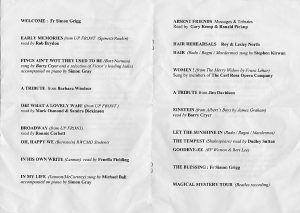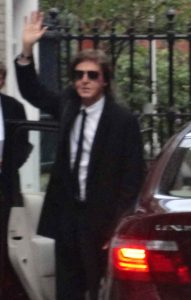 Attending the service would have been a highlight of most day's – but mine didn't end there. That evening, I attended a special gala screening of Magical Mystery Tour. I was the guest of Jeni Crowley, who was on the original Magical Mystery Tour coach, and appears in the film. Sitting with us were Sylvia Bodhi Hillier, and Leslie Cavendish, who were also on the coach, and Roy Benson, who edited the film.
Amongst the celebrities in the audience were Liam Gallagher, Paul Weller, Neil Innes, David Walliams, Peter Asher, Barry Miles, Terry Jones and Terry Gilliam, Mark Lewisohn, and Joe Boyd. Paul McCartney was there too, and gave a short speech before the screening. He seemed surprised to see me again so soon :>) I was sitting right in front of Liam Gallagher, and I could hear him singing along to I am the Walrus.
At first we saw the BBC 'Arena' programme about the making of Magical Mystery Tour, and after a short break, the film itself. Magical Mystery Tour looked and sounded great on a big screen, and it was wonderful seeing it with so many of the people that appeared in it.
…A Day in the Life!!!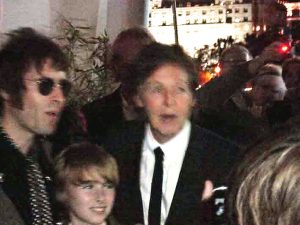 Tags:
Beatles
,
Magical Mystery Tour
,
Victor Spinetti