The Beatles recorded 'Hey Jude' at Trident Studios, St Anne's Court, Soho, London, on July 31st 1968. It was one of the very few times that the Beatles recorded away from EMI Studios at Abbey Road.
Trident Studios was set up by brothers Barry and Norman Sheffield in 1967. Its laid back atmosphere was an antidote to traditional studios, like Abbey Road, where the engineers walked around in white coats. Also, Trident was the engineering pioneer of its day – they were the first in the UK to use Dolby and install an 8-track recording system. The conservative Abbey Road engineers would spend months on testing new equipment before it was used for recording, but at Trident it was straight in use as soon as they could plug it in!
The first major hit recorded here was My Name's Jack by Manfred Mann in March 1968, and it was that which launched them as a professional studio.
Peter Hughes, a prevous owner of Trident Studios, gives an interesting insight in the recording of Hey Jude:
"A few versions of Hey Jude were done at Abbey Road, but then the Beatles decided to come to Trident, as they heard that it had the only 8 track recording machine in the country at that time. They spent 4 sessions there recording Hey Jude, with George Martin in toe, as usual, but not using their own engineer – this job was done by Barry Sheffield, one of the owners of Trident." Because Trident Studios were not owned by EMI, their usual engineers from EMI Studios couldn't work there.
Norman Sheffield remembers how he heard that the Beatles were coming to record in his studio: " I was sitting in my office upstairs at the studio when the phone rang. I recognised the voice on the other end of the line immediately; it was Peter Asher, the head of A and R at Apple Records in London. 'Norman, all hell's broken loose over in Abbey Road. So the boys are going to come over to you for a few days' he said. 'We'll be there tomorrow afternoon. Keep it under your hat will you?' he said. 'Don't want screaming hordes outside'. "
Talk about the telephone call from heaven! Trident has only been open a few months, and now the most famous recording act in the world wanted to come to record there!
The Beatles had a somewhat love-hate relationship with EMI Studio, and things came to a head when they started rehearsing 'Hey Jude' there on July 30th. They were being filmed for a TV special called 'Music!' and the TV crew were getting right in the Beatles' faces. This was the last straw, so they decide to leave EMI for a while and come to Trident. The Beatles knew Trident as they had used it for various recordings on their new Apple record label. James Taylor recorded his first album here, and just a few days before the Beatles came, Paul McCartney produced Mary Hopkin's first single 'Those Were the Days'
Peter Hughes says: "George Martin thought that Trident Studios was a bit cowboy – the reason being that Trident had the first 8 track machine which was manufactured in America and ran on American voltage. It ran fast, so when the tapes were run on other equipment, they played back slow and caused problems. George Martin handles that and Hey Jude came out."
The recording studio layout at the time (it has changed since then) was similar to Abbey Road's Studio Two – it was a high ceiling space about 40 feet long. The control room looked down onto the studio.
Paul McCartney remembered an amusing incident during the recording of 'Hey Jude' "Ringo walked out to go to the toilet and I hadn't noticed. The toilet was only a few yards from his drum booth, but he'd gone past my back and I still thought he was in his drum booth. I started what was the actual take, and 'Hey Jude' goes on for hours before the drums come in and while I was doing it I suddenly felt Ringo tiptoeing past my back rather quickly, trying to get to his drums. And just as he got to his drums, boom boom boom, his timing was absolutely impeccable. So I think when those things happen, you have a little laugh and a light bulb goes off in your head and you think, This is the take! and you put a little more into it. You think, oh, fuck! This has got to be the take, what just happened was so magic! So we did that and we made a pretty good record."
'Hey Jude' was the longest record ever to reach number one in the UK, which caused something of a problem. Engineer Ken Scott remembers that to fit all the grooves on a seven inch single, it had to be recorded at low volume. People would turn the volume of record players up to listen to Hey Jude. They would then turn the record over and play the B Side, 'Revolution', with the volume still turned up, and nearly blow their ears off with the loud distorted guitar at the start of the song. Ken insists that was a deliberate prank.
The Beatles used Trident for some tracks from the 'White Album', but ultimately went back to EMI Studios. They did use Trident for various solo projects, like George's 'All Things Must Pass' album, and Ringo's single 'It Don't Come Easy'.
After the Beatles gave it kudos, Trident became one of the most popular studios in London. David Bowie recorded 'Space Oddity' and the entire 'Hunky Dory' and 'Ziggy Stardust' there; Elton John recorded 'Your Song' and 'Candle in the Wind'; Queen did their early albums there too.
Trident is now owned by a film company, who use it for spoken word recordings, not for music.
Blogger Richard Porter is a full time Beatles tour guide in London. For more info on his tours, go to http://www.beatlesinlondon.com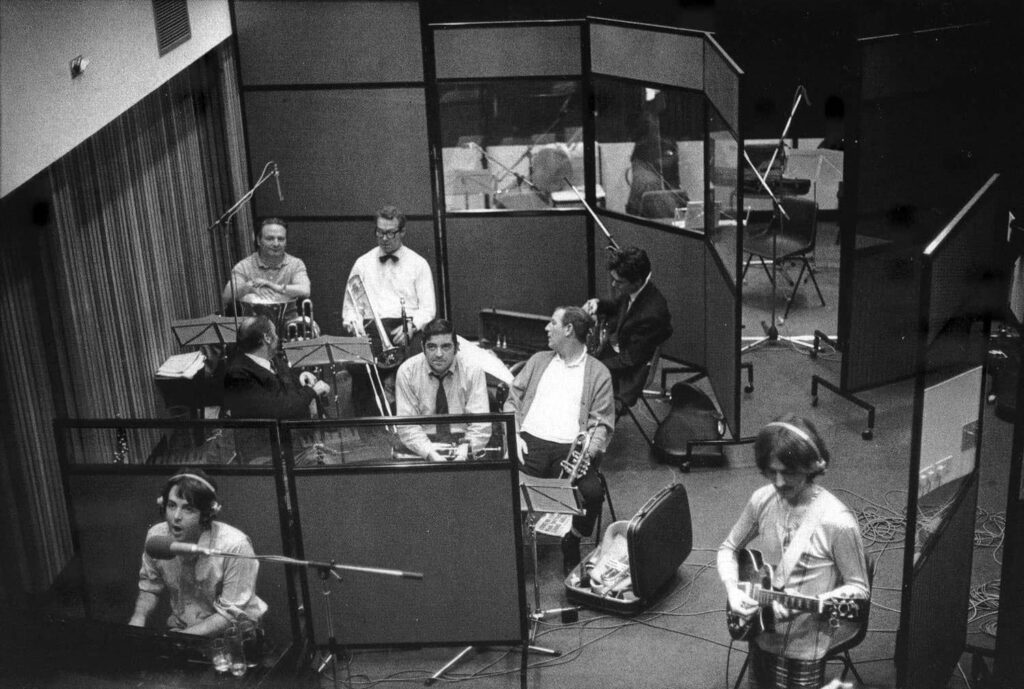 Tags:
Beatles
,
Trident Studios