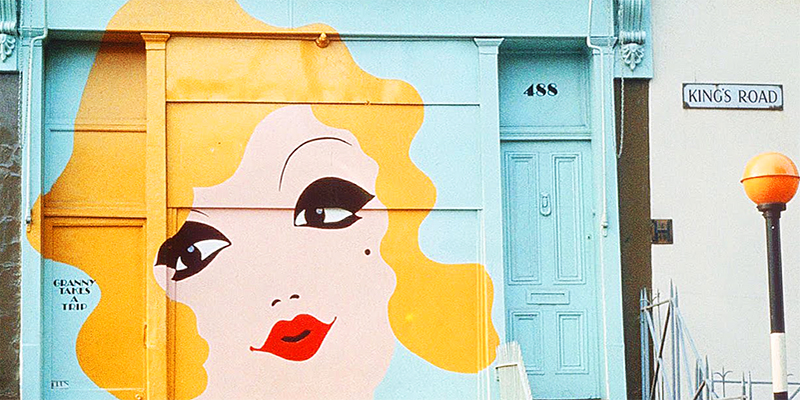 Chelsea – where London was 'Swinging' in the 60s
Join the Beatles in London from the comfort of your own home for the unique interactive experience Chelsea Swinging London 60s Tour!
Welcome to my Chelsea – where London was 'Swingin' in the 60s Tour live and interactive virtual experience!
London's Chelsea was the favourite haunt of the Beatles, Rolling Stones, Pink Floyd, Mary Quant and Twiggy in 'Swinging London' of the 60s.
Be transported to 'Swinging London' and the King's Road – where Rock and Roll royalty would mix with actors, models and artists and members of the aristocracy.
Hear stories of where Beatles opened a clothes shop and had the Sgt Pepper album cover picture taken, and how the Rolling Stones went from living in a squalid student flat to one of most exclusive streets in London.
It was where the 'dedicated followers of fashion' came to buy their clothes from the likes of Mary Quant, and had their hair cut by Vidal Sassoon.
And 'World's End' where the Sex Pistols were formed!
---
'You can't always get what you want', sang Mick Jagger about his visit to the Chelsea Drug Store on King's Road in the Swingin' London of 1960s. At the time it was a nightclub, pharmacy and record store, frequented by the Rolling Stones. Today all you get there is Big Mac and fries, – depends what you want?
There's much more to this building than fast food – find out whom Mick was singing about, and what iconic 60s film it features in, in the Chelsea in the Swingin' 60s Virtual tour.
---
March 1967. The birth of the iconic St. Pepper's cover. In the middle of recording St.Pepper's Lonely Hearts Club Band album, Paul McCartney, looking for inspiration for the cover,  got in touch with art gallery owner Robert Fraser.  Groovy Bob put Paul in touch with artist Peter Blake and his wife Jann Haworth, who designed the cover, based on the list of the Beatles' favourite people. Celebrity photographer Michael Cooper brought it all to life at the Chelsea Manor Studios, off the King's Road. Find out who is on it, and who was left out, – and there's a mystery of the 5th Beatle!
This is a live online tour, and that there will be a Q & A session at the end. It is a great opportunity to meet fans from around the world!
---
Granny Takes a Trip was opened by Nigel Waymouth, his girlfriend Sheila Cohen and John Pearse, after looking for an outlet for Sheila's collection of antique clothes. The premises at 488 Kings Road had been acquired in 1965 and opened in December after Pearse, who was a Savile Row-trained tailor, agreed to join them. Waymouth came up with the curious name. Many of the designs for the clothes were inspired by a visit to Liberty department store where they saw William Morris inspired curtain fabric which they though they could make jackets out of.
Granny was also famous for its shop fronts, which kept on changing. Once it was a large picture of actress Jean Harlow (see below) – another time it was an actual 1948 Dodge saloon car which appeared to crash out from the window onto the forecourt.
Find out more stories about Granny Takes a Trip and the pop stars that used to shop there, on my Chelsea in Swinging London virtual tour.
---
The Beatles opened Apple Tailoring at 161 Kings Road in May 1968. Before that, the premises housed 'Dandie fashions' – which had opened in 1966. Amongst the people that ran Dandie Fashions were John Crittle, and Guiness heir Tara Browne. The boutique was an immediate success and attracted many top pop stars of the day, including the Beatles.
Tara Browne immersed himself in the 'Swinging London' lifestyle and counted amongst his many famous friends Brian Jones of the Rolling Stones, and John Lennon. Brian Jones was a regular visitor to Dandie Fashions, and when it was raided by the police, and John Crittle charged with drugs possession, Jones lent him his chauffeur Brian Palastanga and limousine to take him to court.
Tara Browne also had a love of fast cars – and was tragically killed in a car crash in Redcliffe Gardens, Earl's Court, in December 1966. The report of the crash in the 'Daily Mail' newspaper led to John Lennon writing a section of 'A Day in the Life'. John Crittle bought Browne's share of the business.
In May 1968 The Beatles decided to go into partnership with Crittle renaming Dandie Fashions 'Apple Tailoring (Civil & Theatric). They were attracted to King's Road by the presence of the clothing boutiques, Dandie, along with Granny Takes a Trip and Hung on You.
In the basement of Apple Tailoring the Beatles opened a hair salon, run by Leslie Cavendish, who had been cutting the Beatles hair for some time
On 22 May 1968, the Beatles hosted the launch party of their new venture at Club Dell'Aretusa, a very exclusive nightclub at 107 Kings Road. Among the guests were George and Pattie Harrison, and John Lennon and new girlfriend Yoko Ono. John and Yoko had only got together a few days before.
Find out more about Apple Tailoring and it's opening on this tour.
—————————————————————————————–
Listed to a podcast on Chelsea in the Swinging Sixties on London Walks website:
——————————————————————————————-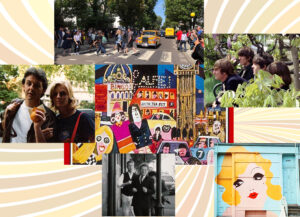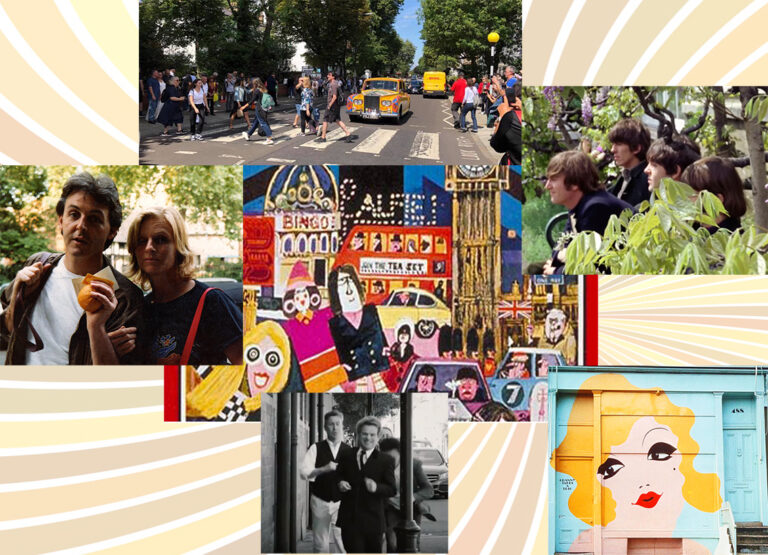 For more virtual tours and online experiences, visit our home page 
I am Richard Porter, author of the book Guide to the Beatles London; writer and presenter of The Beatles' London' DVD; and a guide of 30 years experience. I was the President of the London Beatles Fan Club for 10 years and was a former winner of the 'Beatles Brain of Britain' competition. I organised the celebrations for the 50th anniversary of the Beatles crossing Abbey Road, and was on the committee that erected a blue plaque to commemorate the Beatles famous 'Rooftop concert' at 3 Savile Row. In short, I am Super Fanatical Beatles Fan!
#beatlesvirtualtours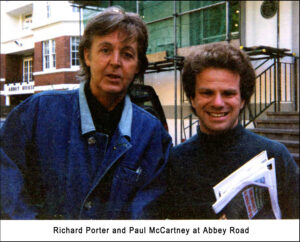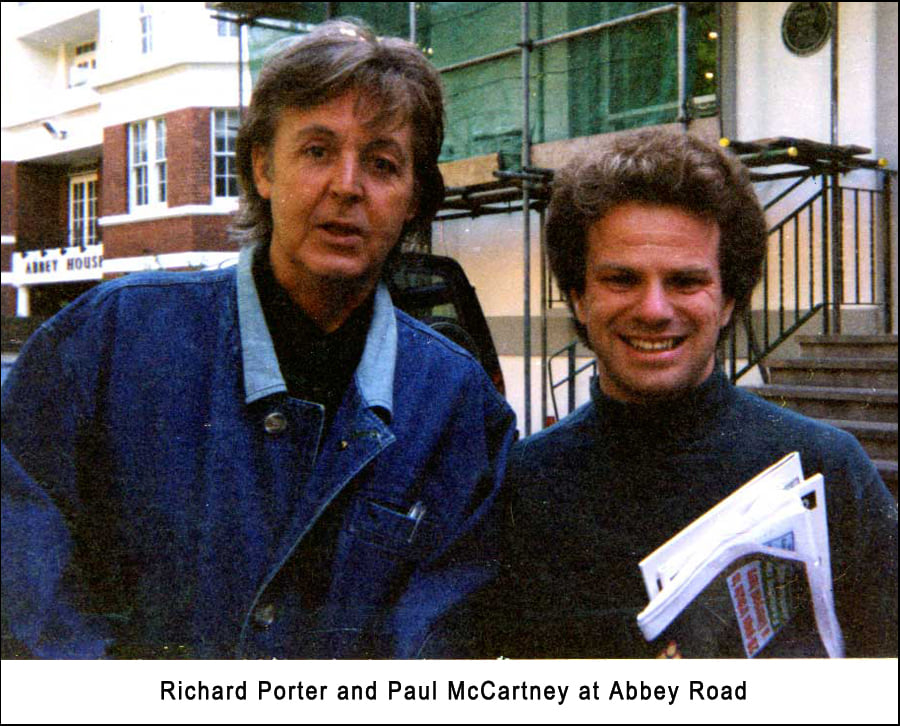 -->