March 27, 2020
0 Comments
In a new article, Beatles and Rock and Roll Tour Guide writes about the 2 Is Coffee Bar. The Beatles never played there, or even visited, but it was an important place in their history. 
For more on Richard's tours, and to buy his book, 'Guide to the Beatles London', go to https://beatlesinlondon.com/
The London area of Soho was always known as an entertainment district that attracted teenagers. It also had a large Italian population. Many Italians started coffee bars in Soho, the first being the Moka Coffee Bar, at 29 Frith Street, which was opened by actress Gina Lollobrigida in 1953.
Teenagers flocked to the new coffee bars that opened, and they became the place for teenagers to 'hang out' – pubs were for old men. Even though the coffee bars couldn't sell alcohol, many would bring their own to put in their coffee.
Soon, coffee bars sprang up all over Soho, and all over London. Many had jukeboxes, playing the latest rock and roll records, but not live music.
The 2 Is Coffee Bar was at 59 Old Compton Street, next to another coffee bar 'Heaven and Hell'.
The Irini brothers, Sammy and Freddie, used the first letter of their name for the venue. But it really started to become known from April 1956 when the lease was taken over by Ray "Rebel" Hunter and Paul "Dr.Death" Lincoln, both Australian wrestlers. They thought that the prime location between Wardour Street and Dean Street would ensure abundant passing trade, but they were soon becoming concerned as the whole Street was jam-packed with other Coffee Bars. As a result, trade was not as good as they'd hoped, and we looking for ways to get more people to come in.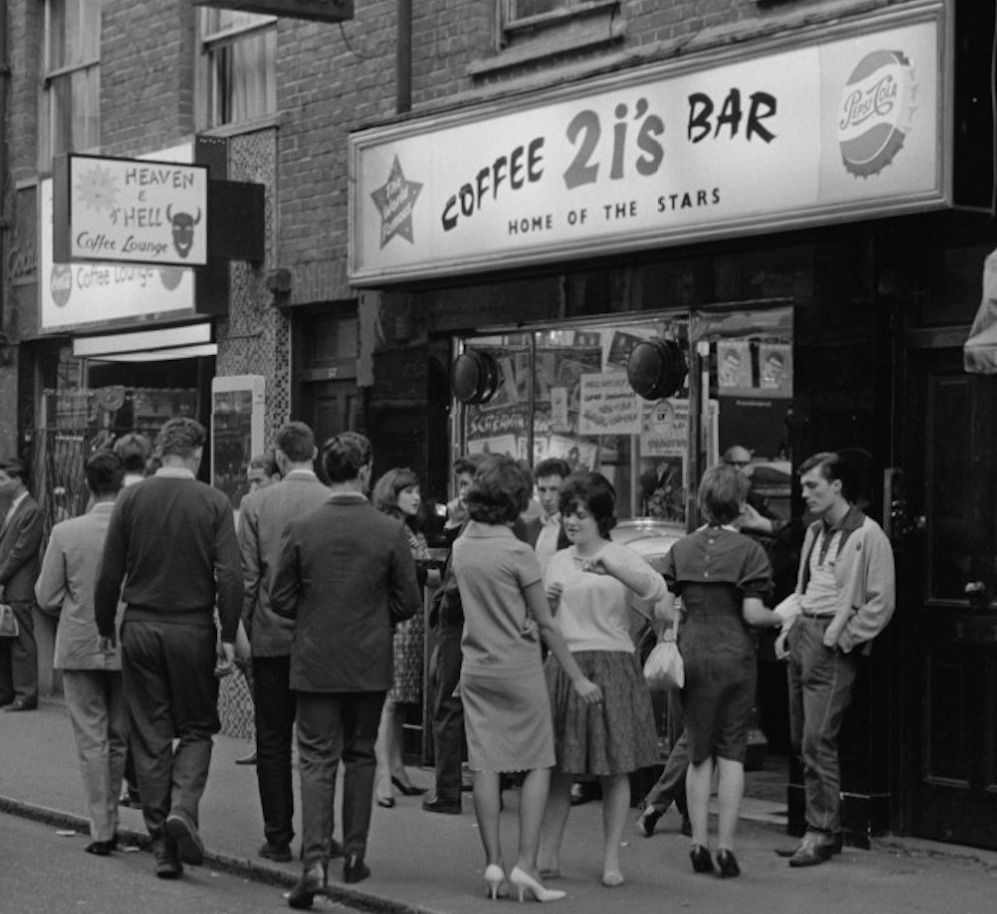 However, fate was at hand. The summer of 1956 saw the annual Soho Fair, which, on July 14th 1956, included a procession around its narrow streets. One of the attractions was The Vipers Skiffle Group, who were playing on the back of a flatbed truck. During the procession, their truck stopped right outside the 2 Is – so the Vipers went into the coffee bar and started playing some songs inside.  . While they were in the 2 Is, people following the procession came in too, and bought lots of coffee. The owners of the 2 Is asked the Vipers to come back in when they wanted, and the Vipers became the house band of the 2 Is.
In September 1956, the Vipers backed their mate Tommy Hicks at the 2 Is. In the audience was A and R man of Parlophone records, George Martin. Martin was unimpressed by Hicks, but signed the Vipers.
Publicist John Kennedy had seen Tommy Hicks playing at the 2 Is and told Larry Parnes about him. Parnes signed the newly named Tommy Steele to a management contract, and started signing up more acts, and changing their names to suit their images. Ron Wycherly became Billy Fury, Reginald Leonard Smith became Marty Wilde, John Askew became Johnny Gentle. Many of his artists appeared at the 2 Is, including Johnny Gentle.  Gentle was backed by the Beatles on their first professional tour, or Scotland in 1960.
Some of the future stars who performed at the 2 Is were Cliff Richard, Hank Marvin, Jet Harris, Tony Meehan, Brian Bennett, Brian 'Licorice' Locking, The Vipers, Tommy Steele, Tony Sheridan, Rory Blackwell, Joe Brown, Clem Cattini, Screaming Lord Sutch, Mickie Most (as The Most Brothers), Paul Gadd (who became Paul Raven and later Gary Glitter), Johnny Kidd, Big Jim Sullivan, Terry Dene, Carlo Little, Richie Blackmore, Wee Willie Harris and Eden Kane. Peter Grant was employed there as a 'bouncer' prior to his career as the manager of Led Zeppelin and Marc Bolan worked there as a waiter. The bar was featured in Cliff Richard's second film, 'Expresso Bongo', made in 1959.
The 2 Is became a famous location and often appeared on TV.  On November 16th 1957, the Best family of Hayman's Green, Liverpool, were watching the TV show, 'Six Five Special, which was so called because it went out at 6.5pm (6:05pm) on Saturday nights. Normally it was broadcast from BBC studios, but this night it was live from the 2 Is Coffee bar.  They were very taken by what they saw and decided to use the basement of their large house into a coffee bar with Rock and Roll. They called it the Casbah Club, inspired by the film 'Algiers' where the star, Charles Boyer, says 'Come with me to the Casbah.
Tom Littlewood was employed as the day-to-day manager of the 2 Is in 1960. He was good friends of Liverpool entrepreneur Alan Williams and inspired Williams to start his own coffee bar with music in Liverpool – the Jacaranda.
Tony Sheridan – the 2 Is to Hamburg
The only guitarist at the time who was any good was Tony Sheridan – Jimmy Page
"Soho was, in effect, an island, vaguely resembling Greenwich Village in its aims and trends, especially in the music field. Everything happened in Old Compton Street, Wardour Street, and there were about 40 regular personalities that meant something". – Tony Sheridan
"Saturday Night in St Pauli made Soho look like a sleepy village fete." Rick Richards of the Jets
Born on 21st May 1940 in Norwich, Anthony Esmond O`Sheridan McGinnity, was the son of an English mother and Irish father. Known as Tony Sheridan, he grew up in a home strongly influenced by classical music and learned the violin at an early age. Artistically talented, he dropped out of grammar school to attend art school, and changed his violin for a guitar. In 1956 he formed his first skiffle group.
Tony started to visit London in late 1957, and became a regular at the 2 Is. He remembered that 'Roy Young was screaming out Little Richard songs the first time I went down there'.
In January 1959, Tony formed a new band called 'Tony Sheridan and the Wreckers.' The Wreckers featured Jimmie Nicol on drums. Tony Sheridan said of Nicol "Jimmie was an exemplary drummer – one of those drummers appreciated by all musicians, though they might not admit it! It was one of those things really, right time, right place, right chemistry."
However, as Tony Sheridan and the Wreckers were about to go on to the lucrative ballroom circuit, Larry Parnes moved Nicol out of the Wreckers and into 'The Quiet Three' – the backing band of one of his major artists, Vince Eager. Jimmie later became a session musician, until he briefly filled in for Ringo Starr in the Beatles, when Ringo fell ill before their world tour in 1964.
1959 Dick Rowe announced he had signed Tony Sheridan to Top Rank Records. However, disagreements with Tony's then manager, Tom Littlewood, scuppered the deal.
Tony was on the Eddie Cochran/Gene Vincent tour in 1960. On April 17th Eddie and Gene were involved in a serious car crash.  Tony said, "God, I'd have given almost anything to get a seat in the car taking Gene and Eddie from Bristol back to London on that last date of the tour in the spring of 1960. Instead, for the first (and last) time in my life I purchased half a bottle of whiskey and proceeded to down it in the theatre dressing room. Next morning, we learned that Eddie was dead, the car having crashed not too far from Bristol".
Tony made 9 appearances on the TV show 'Oh Boy' – but "lost interest and 'forgot' my guitar or made a general nuisance of myself. Felt used or under-rated"
Tony backed Cliff Richard on a couple of occasions but as Tony says, "In those days I was a wild man – Hank Marvin and Bruce Welch were relatively docile chaps, and willing to back Cliff accordingly."
Tony met his first wife, Hazel, at the 2 Is. She had an unplanned pregnancy and she and Tony had a 'shot-gun wedding' with future Shadows Brian 'Liquorice' Locking and Brian Bennett as joint best men. The marriage was not a success, and Tony was looking for a change…
It was around this time that Hamburg club owner, Bruno Koschmider, bumped into musician Iain Hines, who recommended a group (which then didn't exist!) who could play in Hamburg. However, Hines got a group together quickly, that was made up of musicians from the 2 Is.  Tony Sheridan became part of this group – that were called 'The Jets'.
In July 1960, Liverpool booking agent, Allan Williams brought the Liverpool band Derry and the Seniors to London to play at the 2 Is. He owed them work, as he'd promised them a summer season in Blackpool, but promoter Larry Parnes pulled out of the deal at the last moment. However, Derry and the Seniors had given up their regular day jobs and were now desperate for some work. In an amazing twist of fate, Bruno Koschmider was in the 2 Is that night, looking for another act to take to Hamburg. The Jets had gone down so well, he needed another group for the Kaiserkeller Club. Koschmider loved the band, and an agreement was made on the spot for Derry and the Seniors to go to Hamburg.
Derry and the Seniors went down a storm in Hamburg too, so in early August 1960,  Koschmider got in touch with Allan Williams again to see if he had another band to send to Hamburg. This time it was the Beatles turn…
Tags:
2 I's Coffee Bar
,
Beatles
,
Cliff Richard
,
Tommy Steele
,
Tony Sheridan