November 13, 2017
0 Comments
Beatles in London has teamed with Rocco Buonvino Productions for an exclusive 20% discount partnership on tickets for the Symphonic Beatles Concert, which is taking place on November 30th at the London Coliseum
Promo Code Box Type: walk20
The Concert- Symphonic Beatles
The concert is to raise money for Macmillan Cancer Support. Symphonic Beatles celebrates the music of the Beatles performed by the London Concert Orchestra and Capital Voices choir together with special star guests.
Symphonic Beatles is in aid of Macmillan Concert Support, which is one of the most prominent British charities who provide specialist health care, information and financial support to people affected by cancer.
Music icons Pixie Lott, Imelda May, Tony Hadley, Una Healy, and Bonnie Tyler are just a few of the headline star guests who will be performing.
Symphonic Beatles takes place at the graceful London Coliseum Theatre in London on Thursday 30th November 2017.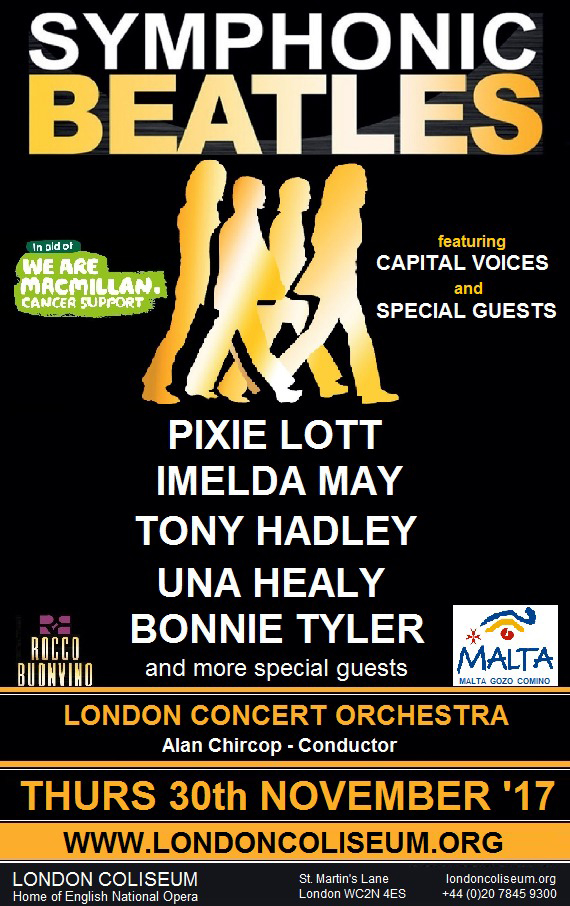 Tags:
Beatles
,
London Coliseum
,
Symphoic Beatles