January 3, 2018
4 Comments
Thanks to Alan G Parker for letting me share this. A map of the Beatles's London, drawn by John Lennon on a copy of the White Album!! An amazing find I've never seen before. It includes so many sites, of course Abbey Road, but also Chapel Street, where Brian Epstein lived; Mason's Yard, the site of the Indica Art Gallery, where John met Yoko; and St Anne's Court, the site of Trident Studios. Also included is Montagu Square, where John Lived with Yoko; Marylebone Station, where the opening scenes of  A Hard Day's Night were shot; and Green Street, where the Beatles all lived in same apartment.
I'm guessing it was done in the 1970s – as the Royal Courts of Justice are included, where Paul sued John, George and Ringo, in 1971,to bring in administrators at Apple. Enquiries are being made as to exactly when the map was drawn, and what what purpose. I will of course keep you informed!
What a find!!
Update: I thought it was too good to be true! Thanks to Simon Weitzman, who had told me the map was actually designed by artist David Atkinson, who drew it in the style of John Lennon. He was commissioned to do the maps by Q Magazine. I knew I'd see it somewhere before, but couldn't remember where! David Atkinson will feature in Simon's Here There And Everywhere – The Beatles Fan Film.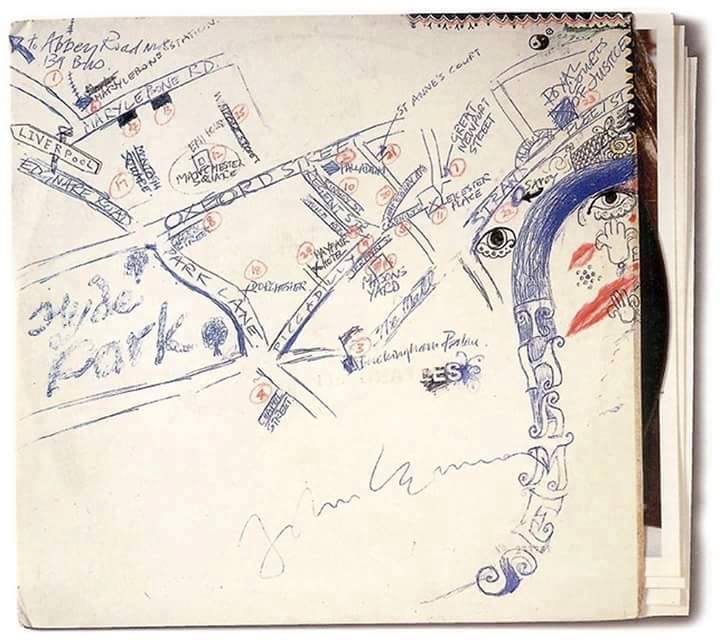 Tags:
Abbey Road
,
Beatles
,
Beatles London
,
John Lennon
,
London
,
Montagu Square
,
White Album