September 27, 2017
0 Comments
After sell-out dates this summer, London's Swinging 60s Experience Tours are back at the Albert Hall over the next three months before rolling-out with a regular weekly schedule from March 2018.
Exploring the era-defining significance and impact of the 1960s, expressed through some of the greatest music and legendary
performers of the 20th-century, these immersive tours have been transporting passengers from all over the world, back in time via the sights, sounds and smells of Swinging 60s London.
The experience begins with a one-hour tour of historic 60s locations on a vintage double-decker London bus. To a backdrop of 60s music and live commentary, the tour travels down the Kings Road, Chelsea passing many famous locations including the Royal Court Hotel in Sloane Square, once the London base of The Beatles; the Chelsea Drug Store, immortalised by The Rolling Stones; Mary Quant's boutique Bazaar where the Mini Skirt was created and the architectural splendor of The Pheasantry, once owned by Eric
Clapton during his time with Cream. The tour continues past homes once owned by 60s music legends, socialites and other notable figures on Edith Grove and Cheyne Walk on its way back to the most iconic music venue in the World.
On arrival back at the Royal Albert Hall, passengers are greeted by a friendly and knowledgeable guide before embarking on a
fascinating one-hour journey throughout the Hall where they'll hear about the pivotal roll it played in the era's counter culture. Inaddition to the Queen's Box, the tours include many areas that are usually off-limit to the public, including the stunning auditorium
that welcomed The Beatles and The Rolling Stones on the same night and staged Bob Dylan's electric transition.
A delicious two-course lunch option from an Italian-inspired set menu created by the Hall's caterers – Rhubarb is also available after the bus tour at the exquisite Verdi Restaurant.
*All ticket options are bookable through the Royal Albert Hall box office and website http://www.royalalberthall.com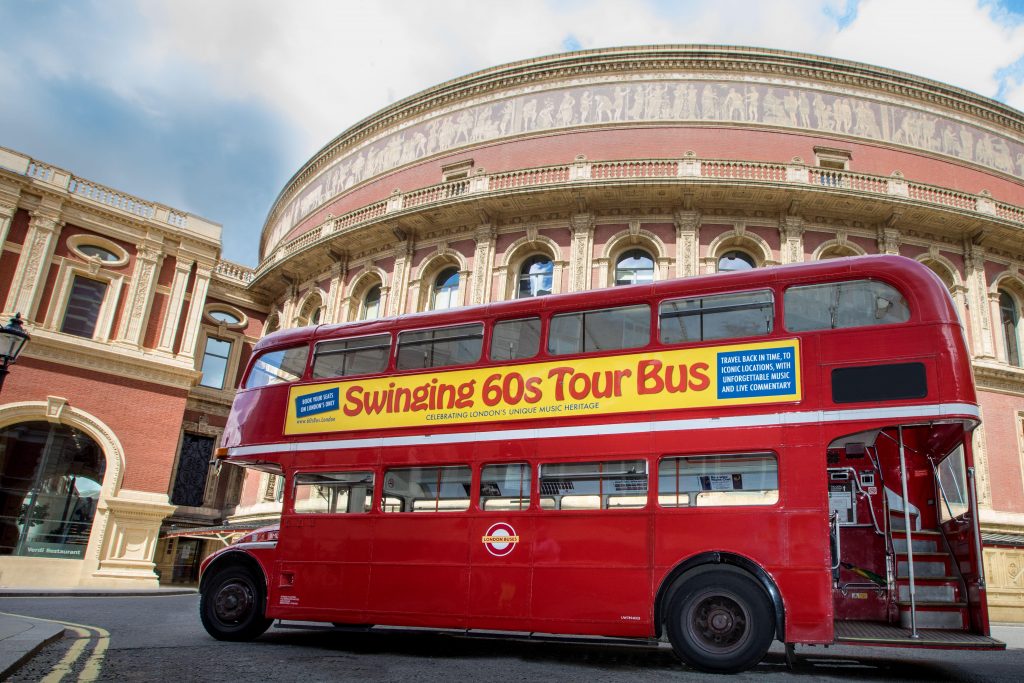 Tags:
60s Bus
,
Beatles
,
Rolling Stones
,
Royal Albert Hall