April 25, 2017
0 Comments
Take a trip back in time to experience a flavour of the sights and sounds of the 60s – hop aboard the Swinging 60s Shuttle Bus before enjoying taking lunch and experiencing the Sixties at the Hall Tour at the Royal Albert Hall.
This unique and immersive experience will introduce you to some of the 60s most iconic venues and locations. Aboard the Swinging 60s Bus Tour you'll pass by the Chelsea Drug Store, as immortalised by The Rolling Stones and Granny Takes a Trip, London's first psychedelic boutique whose clientele included the likes of Hendrix, The Beatles and Rod Stewart to name but a few.
After stopping for a two course lunch, shoot back once again into the 60s with a guided Sixties at the Hall Tour. Explore the Royal Albert Hall's role in this fascinating era of London's cultural history – from welcoming The Beatles and The Stones on the same night, to witnessing Bob Dylan's electric transition and even a Pink Floyd comedy night – there's an entire world of 60s musical history to discover.
For more details, and to book, see http://www.royalalberthall.com/tickets/tours-and-exhibitions/the-swinging-sixties-bus-and-hall-tour-experience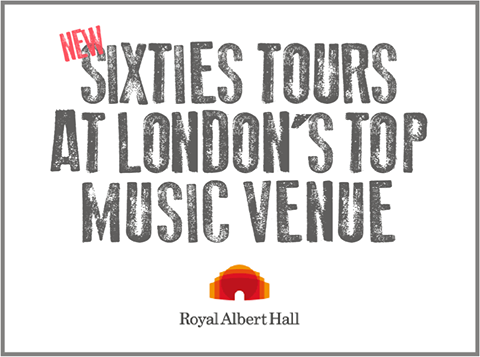 Tags:
Beatles
,
Bob Dylan
,
Jimi Hendrix
,
Rolling Stones
,
Routemaster bus
,
Royal Albert Hall