The Beatles legend took it back to where it all started for a free gig for the world's luckiest fans
"Do you wanna get back?" Paul McCartney asked the crowd, towards the end of one of the smallest, longest, sweatiest shows he's played since, well, probably last time he was here at Liverpool's legendary Cavern Club. "Cos I do."
McCartney's been getting back a lot lately; on Monday he played a show in Studio Two of London's Abbey Road, where The Beatles recorded much of their catalogue, with an audience including Johnny Depp, his daughter Stella McCartney, Liv Tyler, Stormzy, Maya Jama, Orlando Bloom and Nile Rodgers.
Yesterday, he was at LIPA, the performing arts academy he founded in the former home of his old school, the Liverpool Institute High School For Boys, where he spoke to students and performed an acoustic set. Earlier this year he swung by old homes and old haunts with James Corden, and played a show at Liverpool pub The Philharmonic, where he and John used to drink.
And today, he was back at the place where the Beatles legend was cemented: The Cavern Club, completing his Magical Mystery Tour with a gig announced at 9am this morning and done and dusted by 4pm.
Fans had already twigged. There were hundreds of the outside The Cavern at the crack of dawn, and they'd come from near and far. Thomas O'Keeffe, who was there at 6am, described the scene. "Everyone was queuing outside The Cavern when this fella comes out and says the tickets aren't there. I'd heard a rumour that they were going to be at The Echo Arena instead, so I just started running all the way over there, and all these people started running too. I was sweating, panting, nearly dying. It was like the start of A Hard Day's Night." But it was worth it? "Oh my god, yeah, it was worth it." Two Argentine fans had heard the rumour and headed straight up on the coach from their holiday in London; a Californian fan got a plane over from LA.
And McCartney, who's been in his home for city for two days, took to the stage shortly after 2pm.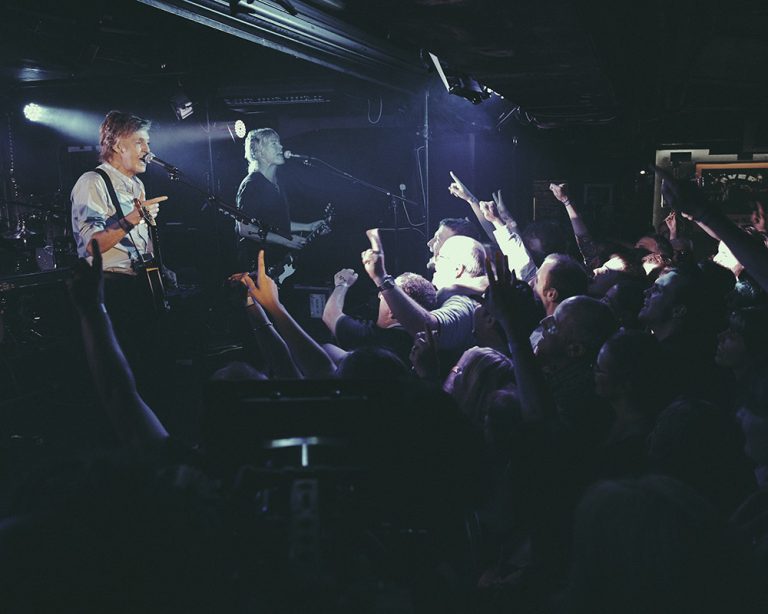 Tags:
Cavern Club
,
Liverpool
,
Paul McCartney