December 26, 2016
0 Comments
On 26th December 1966, the Christmas Special of 'Not Only….. But Also….' starring Peter Cook and Dudley Moore was broadcast. The show was a send up of an American TV reporter, played by Peter Cook, sent to the UK to find 'Swinging London'
Peter Cook encounters the hippest toilets in London, the 'Ad Lav' and the commissionaire 'Dan' played by John Lennon.
Lennon is seen saluting to 'visitors' to the toilets, above him is a sign saying 'Members Only' – very bad English toilet humour! John greets Peter Cook and tells him there is a £5 'waiting list' for entering the toilets. He then tells Peter Cook to 'follow your nose' when entering!
The sketch was filmed on 27th November 1966, in Broadwick Street in Soho, London. John is seen wearing his famous small round glasses for the first time. He was given them to wear in the film 'How I Won the War', which he had just completed. John liked the glasses so much he was rarely without them until he died. Before they were known as 'granny glasses' and were normally worn by old ladies. After John started wearing them they became the height of fashion.
The toilets in Broadwick Street are still there! We go past there (but not inside!) on my 'Beatles Magical Mystery Tour' London walking tour. For more info see http://www.beatlesinlondon.com
https://www.youtube.com/watch?v=uciFiNrlzdk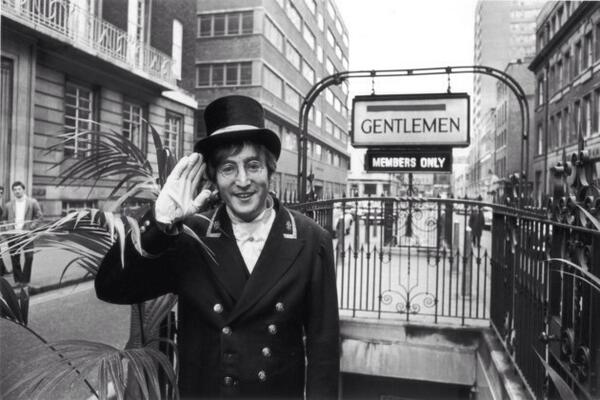 Tags:
Beatles
,
Broadwick Street
,
Dudley Moore
,
John Lennon
,
London
,
Not Only...But Also
,
Peter Cook