February 11, 2020
0 Comments
On February 11th 1963, the Beatles recorded their debut album Please Please Me in one day! (Their second album took even longer :>)
In an amazing recording session that lasted just shy of 10 hours, the Beatles recorded 10 tracks. The Beatles weren't in tip top condition either – the winter of 1962/63 was one of the coldest on record, and John Lennon was suffering from a particularly bad cold, that was affecting his voice. He got through the session sucking on Zubes throat sweets. Paradoxically, right by the jar of Zubes was a huge jar of cigarettes, that the Beatles smoked constantly through the day.
Only 2 songs were recorded in the morning session, 'There's a Place' and 'Seventeen' (the working title of 'I Saw Her Standing There') At lunchtime, the engineers went to the the local pub, the Heroes of Alma, but the Beatles stayed in the studio to rehearse.
After lunch, they recorded 'Do You Want to Know a Secret' and 'Misery'. Then at the 7:30pm evening session, things really started to pick up pace. They first recorded their own song 'Hold Me Tight' – but it didn't really work, and the song was re-recorded for the Beatles second album 'With the Beatles'.
The Beatles then recorded four cover versions, 'Anna (go to him)' 'Chains' 'Boys' and 'Baby It's You'. By the time the Beatles recorded 'Baby It's You', John Lennon's voice was really rasping, and he and the other Beatles were glad that they thought the day was over, and retired to the canteen. But it wasn't, because 'Hold me Tight' hadn't worked out, another song was needed. After a short debate, it was decided that it should be 'Twist and Shout' – a real fan favourite at their gigs. John's voice had nearly gone by then, so, according to some accounts, he took his shirt off and ripped into 'Twist and Shout' in his most raucous voice possible on the first take. A second take was attempted, but wasn't needed, as John had nailed it with the first take, and also totally ruined his voice in doing it! What an end to an amazing day.
Even though Please Please Me only took one day to record, it stayed at number one in the UK album chart for 30 weeks, only to replaced by the Beatles second album 'With the Beatles'!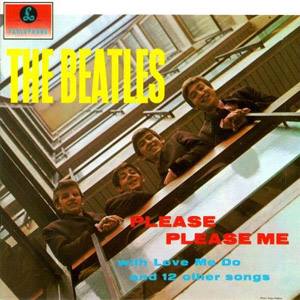 Tags:
Abbey Road Studios
,
Beatles
,
Beatles Please Please Me
,
Beatles Twist and Shout