Come Together! Special Beatles Walk August 8th
9:30am from outside exit One of Tottenham Court Road Station. 
Cross Abbey Road 50 years to the minute since the Beatles on our very special London Beatles Walk on August 8th!. Join Beatles fans from around the world on this historic occasion. We will also visit: Paul McCartney's London Offices, The Studio where the Beatles recorded 'Hey Jude', where they played their last ever live performance, and many others. We will be lead across by the Beatles tribute supergroup 'Fab Gear' who will be wearing the same style clothes that the Beatles wore 50 years ago. They will arrive at the crossing in a replica of John Lennon's psychedelic Rolls Royce Car!
There are many other surprises planned for the day too
To book for the tour go to https://www.funzing.com/sd/UVduZN and scroll through for the date.
Special Concert – Dublin Castle, Camden Town
Then to celebrate, come to our special party at the historic Dublin Castle in Camden Town. It will star 'Fab Gear' a Beatles tribute 'supergroup', featuring Phill Marshall Agourakis as John, Joe Kane as Paul, David Minchin as George, and Dave Stark as Ringo. Also starring the great duo 'The Fab Twins'. The will be many special guests, making this a Fab celebration of an event that has brought Beatles fans together from around the World. Tickets £10 in advance, or £13 on the day.
Tickets can be bought at https://www.wegottickets.com/event/476463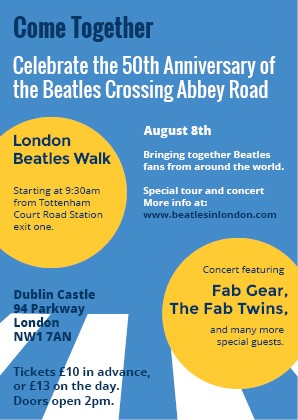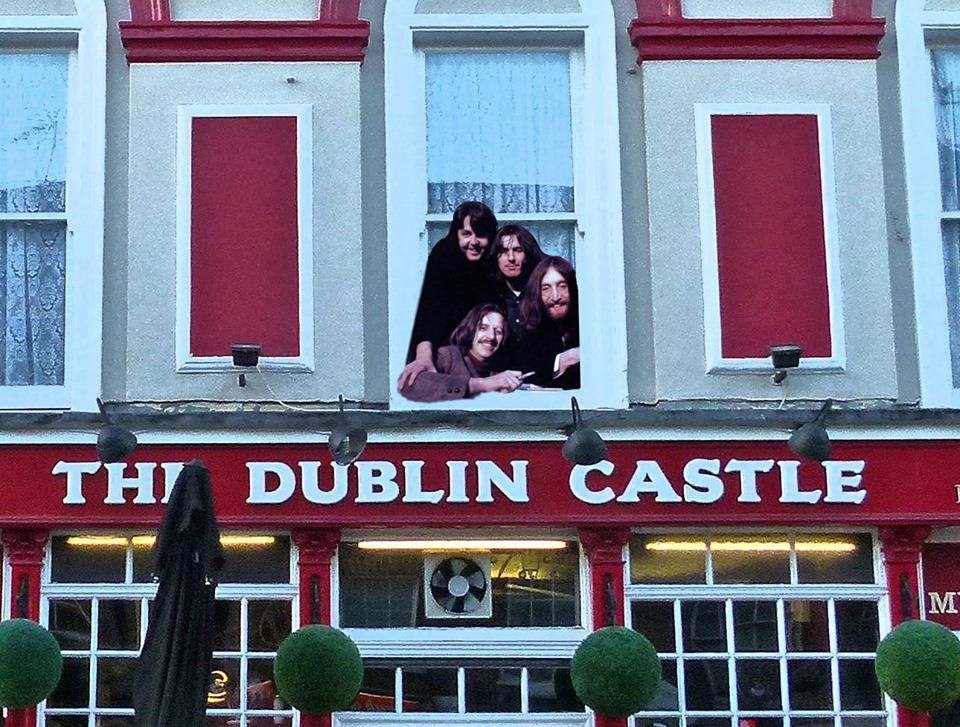 Tags:
Abbey Road
,
Abbey Road 50th anniversary
,
Abbey Road Studios
,
Beatles
,
Beatles Abbey Road Crossing
,
Dublin Castle