December 5, 2017
2 Comments
To mark the 50th anniversary of it's opening, blogger Richard Porter tells the story of the Beatles 'Apple' Shop on Baker Street. This is an extract of his book, 'Guide to the Beatles London. To order the book, go to http://www.beatlescoffeeshop.com/shop/product.php/2/guide_to_the_beatles_london__guide_book_by_richard_porter
It is also available at Helter Skelter and the London Beatles Store in London, and the Beatles Story Shop in Liverpool. 
The Apple shop was the first of the Beatles major Apple projects. They started the company because they were advised to spend money quickly, or be taxed on it at the rate of 95%! Hence the George Harrison song Taxman, in which he sang, "There's one for you, 19 for me". Alistair Taylor remembers: "We had to submit plans of how to save three or four shillings in the pound – which, of course, with their money was a substantial amount. So we set up what was laughingly called 'the executive board' to plan how to invest this money. Brian Epstein did not want to know about it. I was on the board along with Neil Aspinall, Pete Shotton and Brian's brother Clive. We just kicked around plans and ideas. The first real idea was to open a chain of card shops. They are now on every street corner, but they were unheard of in those days. So we finally thought that his was a good idea and we put it to the Beatles. They sat there for a minute, and then John said, "What a f*** boring idea!!"
Instead they let their friends, a group of designers from Holland called the Fool, open a clothes shop with hippy accessories. In fact, everything in the shop was for sale – even the fixtures and fittings!
The staff of the boutique, led by Jenny Boyd (Pattie Harrison's sister and inspiration behind Donovan's song Jennifer, Juniper) and Pete Shotton, John's old friend from Quarrybank, were young and inexperienced.
On the outside wall the Fool painted a huge multi-coloured mural. It was not liked by local shop owners. Also, they did not have a planning permission and the local council demanded that the mural be removed or they would do it themselves – and send the bill to Apple! Pete Shotton therefore had no choice and the mural was whitewashed over. A pity, as it certainly brightened up the area!
The Beatles attitude to Apple was summed up by a meeting between John and Pete Shotton. Pete had gone to John to tell him that the Fool had wanted all the labels in the clothes to be made of pure silk. Pete argued that if this went ahead, the labels would cost more to produce than the clothes. John retorted, "We are not business freaks – we are artists". The labels were duly made of silk.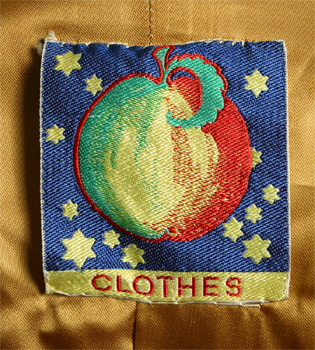 Even the Beatles themselves could not agree on everything about the shop. One day Paul went in and asked the staff to put in a partition. Next day John went in and told them in no uncertain terms to remove it immediately.
The shop was launched by a huge opening party on 5th December 1967. It was attended by hundreds of 'beautiful people', but not, bizarrely, half of the Beatles. Only John and George attended. Everyone was given apple juice to toast the opening of the Beatles new venture.  The shop opened to the public on the 7th. 
To promote the shop, The Beatles wives, Cynthia Lennon, Patti Harrison and Maureen Starkey, along with Jenny Boyd, posed for a photo, wearing clothes the shop sold. Even though it looked rather nice, the black and white photo didn't really show off the psychedelic clothes too well!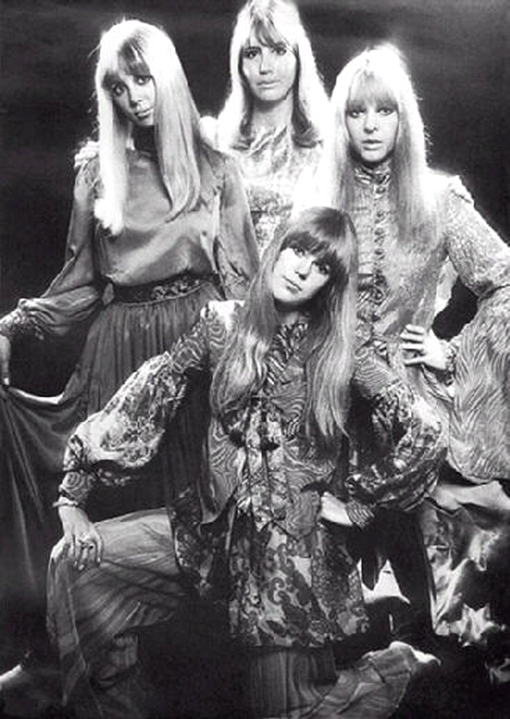 Unfortunately, the shop was not a success. Even though the clothes were certainly psychedelic and very much of their time, they were not well produced and were liable to fall apart rather quickly. The psychedelic lighting designed by 'magic' Alex Mardas, made adequate security impossible and the shop was a shoplifter's paradise. John met Alex a year or so before at the Indica Art Gallery (where, of course, he had also met Yoko) and had been dazzled by his electronic wizardry. Pete Shotton remembers, "Things were flying off the shelves as fast as we could replenish our stocks – the trouble was that a lot of it was flying off without the benefit of a cash transaction. Our tuned in, turned on staff were loath to apprehend shop-lifters – and they had few scruples about helping themselves to stuff that caught their fancy."
After Jenny Boyd left, Jeni Crowley, one of the Beatles Fan Club secretaries, took her place. She told me, "George had asked me a few times what I was doing and I said I was still at school. He said 'what do want to be at school for? He said to me why don't I come to work at Apple? They had opened the shop, and Jenny Boyd was leaving, so by this time I said Oh, all right then, so I went to work in the Apple shop. It was a strange place. There was Caleb – the manager of the shop, and a few people who I wondered whether they should be there or not! The Fool came in quite regularly and made me a coat. They had a basement flat where they made some wonderful creations. The flat was at 30 Montagu Square.
To get into the shop you had to hold a handle in the shape of a hand. George and Ringo came in a lot, and Yoko, and Kyoko, with her nanny. One day I was in the shop when Ringo came in. We were walking down the stairs and we realised it was like Your Mother Should Know – we both starting singing it, and he danced me down the stairs. Pattie and Jeni used to come in regularly. To me, though, it was just a job, not particularly out of the ordinary. It was the inside looking out thing again. The outside world looked freaky to us and we were protected."
Finally, only eight months after it opened, the Beatles got fed up with the shop and closed it down.
Jeni remembers it was all very sudden. She remembers "We didn't know a thing! Though I'd had bad vibes – I was having my lunch break one day, when I felt that I must go home. I had this feeling that something awful was going to happen, but we had no idea. As I went out the door, John, Yoko and some others came in and ransacked the place, taking anything they wanted."
This was when the Beatles and their close friends and associates raided the shop the night before it closed down and took all the best stuff. Pete Shotton thinks that John Lennon seemed unaware "that it was his own property that he was so gleefully absconding with."
On the last day the doors were left open, and anyone could come in and take what they liked without paying for it. People had been doing this for a long time anyway, but hundreds turned up to the mass give-away hoping to get some of the clothes. The police had to be called to restore order.
Jeni Crowley remembers: "I got up to serve someone and they took my chair! They said we could take anything before it goes."
Even after the shop closed, the premises continued to bring the Beatles problems. Paul realised that the now empty building had large windows – perfect to advertise the Beatles new single. One night Paul and some friends went around to the building to paint the titles of the songs on the windows. These were Hey Jude and Revolution. Little did they realise that Jude is German for Jew. A Jewish passer-by saw this as a return to the days of the Nazis and put a brick through the window. The highly embarrassed Beatles did not press charges.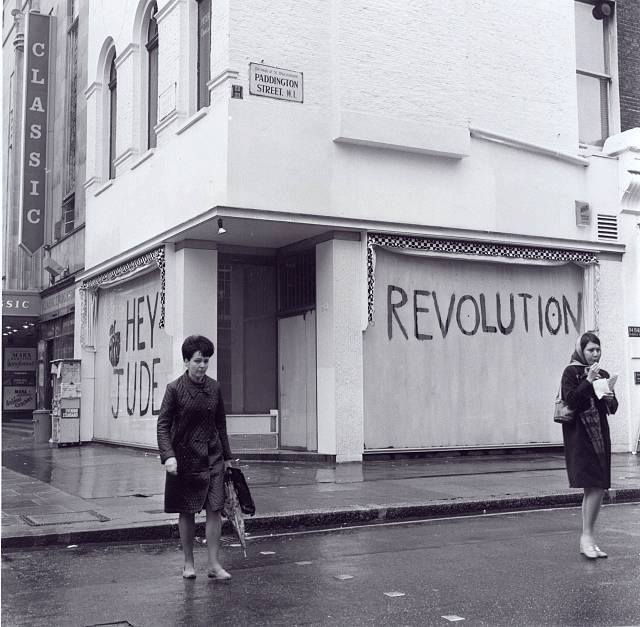 Above the shop were the first offices of Apple Music Publishing. To promote the company, Paul got Alistair Taylor to dress up as a one-man band. Alistair remembers: "Paul stopped by my flat in Montagu Place, which was an Apple flat. He said, "I've got this great idea. We are going to put an ad in the NME (New Musical Express, a well known British music paper), to get some tapes into Apple. What Paul wanted was to get people to send in tapes, demos, etc. We must have kicked around so many ideas to God knows what time in the morning. Finally, we hit on the idea of a one-man band. So then we talked about how we were going to do it. We thought we wanted a straight guy in a bowler hat. Paul looked at me and said, "Well, you are a straight guy – do you have a bowler hat?" It just so happened I did. Paul and I went down to Soho and hired a one-man band and did the photo session. I was miming, so Paul said, "Sing a Beatles song". So I tried, and he said, "Forget that!" – it was a disaster area. So in the end that picture is of me singing When Irish Eyes are Smiling – badly!!"
The blurb of the ad read, "This man has talent! One day he sang his songs into a tape recorder (borrowed from the man next door.) In his neatest handwriting he wrote an explanatory note (giving his name and address) and, remembering to enclose a picture of himself, sent the tape, letter and photograph to Apple Music, 94 Baker Street. If you were thinking of doing the same thing yourself – do it now! This man now owns a Bentley!"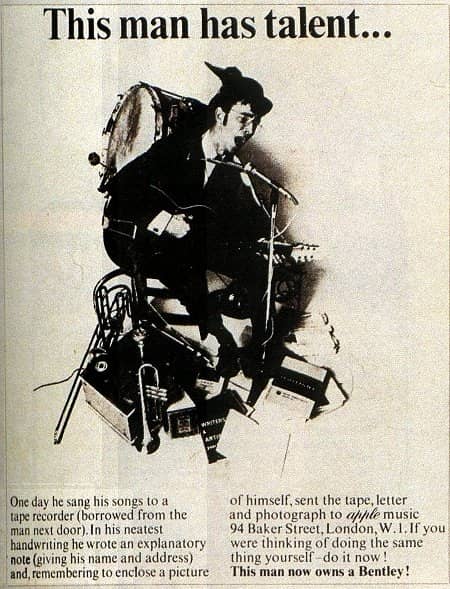 When the ad appeared in the NME, the Beatles received thousands of tapes – most of which were dreadful, and no new writers were found.
The first band signed to Apple Publishing was Grapefruit. Geoff Sweetenham of Grapefruit remembers clearly the first time they went to Baker Street to meet the head of Apple Publishing, Terry Doran. "We had go to up some rickety old steps, but when we arrived, no one was there. Sometime later, a lunatic with a mop of curly hair came bouncing up the stairs, jumped the last four and landed on his knees. This was our first sight of Terry Doran."
The group still did not have a name. Pete Sweetenham of Grapefruit remembers, "Terry got a call from John Lennon saying he'd thought of the name "Grapefruit". He'd got it from the title of Yoko Ono's book. At the time John was still with Cynthia, so they had to change the story for our publicity handouts."
Soon it became obvious that the Baker Street offices were too small for the fast expanding company, and Apple took new offices in Wigmore Street.
In March 2013, a Blue Plaque to John Lennon and George Harrison was unveiled at 94 Baker Street. Amongst those present at the ceremony were former Apple Shop worker Jeni Crowley, Tony Bramwell of Apple, and Quarryman Rod Davis.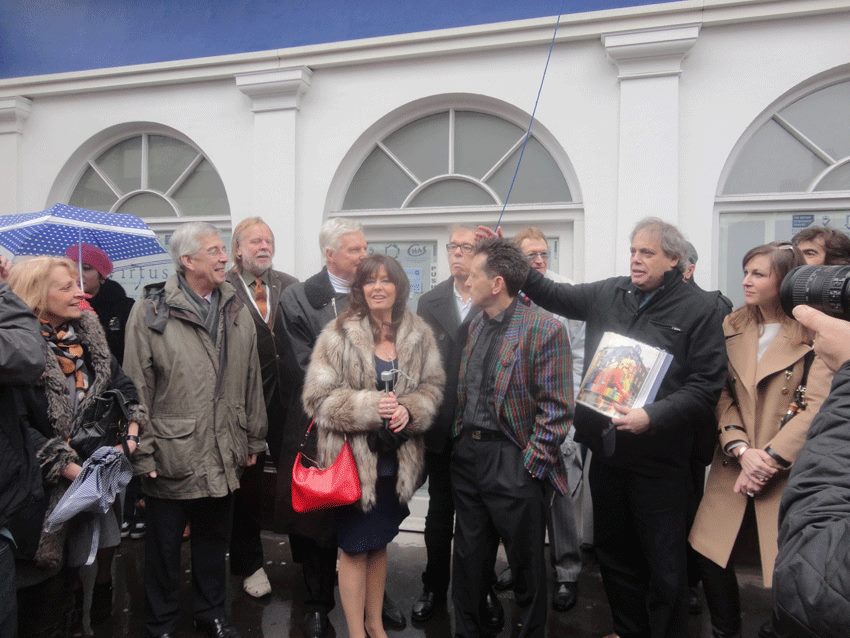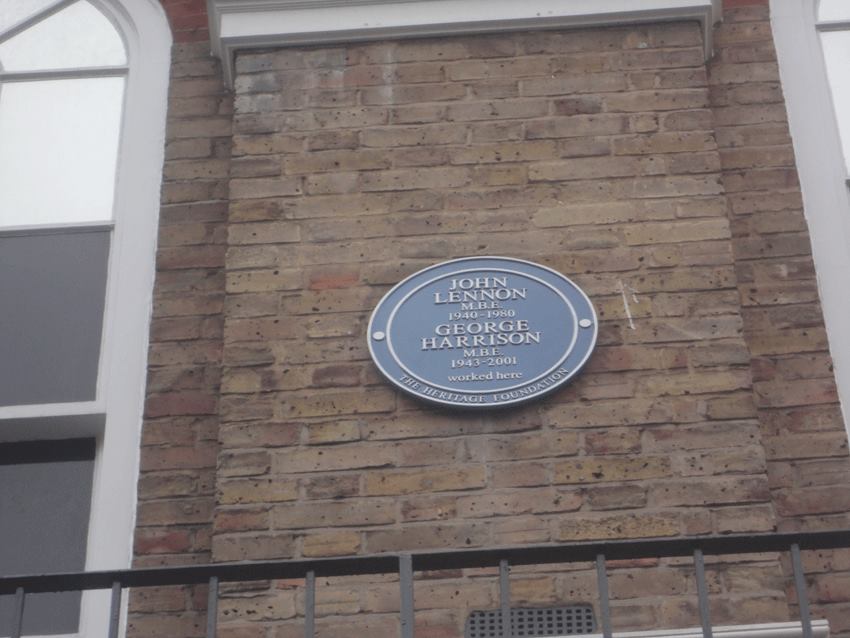 Tags:
Apple Boutique
,
Apple Shop
,
Beatles
,
Beatles Baker Street