January 2, 2019
0 Comments
The idea of what became known as 'Let it Be' started during the making of the Hey Jude and Revolution videos at Twickenham Studios. The Beatles really liked playing in front of an audience – for the first time in over 2 years. They didn't want to tour again, but instead would do a live performance which would be shown around the world. The Head of Apple Film, Denis O'Dell was approached by Paul McCartney about making a film of the Beatles playing a concert in front of an invited audience, which would be also released as a live album.
In their December 1968 edition 'The Beatles Book' official monthly magazine announced the TV show, and a competition from 100 lucky fans to attend. Initial plans were made to hold the concert at the Roundhouse, and old railway shed, which had been converted into one of the hippest music venues in London. A date was set for December 15th. However, Beatles Monthly also reported that the original idea of holding the concert at the Roundhouse had been dropped and that instead there would be three different live shows at venues to be announced. The concerts would be held in early 1969. Eventually, the lucky winners were sent copies of the Abbey Road album, and not concert tickets, as the show never happened.
It was around this time that Yoko Ono suffered a miscarriage of her and John's first child. Of course, both were distraught, and John and Yoko started taking heroin, a habit they wouldn't break for some months.
Later, January 18th was put forward as a possible date for the shows, but later dropped. Amongst the suggestions of where to hold the concerts was a disused flour mill by the river Thames.
However, things went quiet, as no one could agree on where to do the show. Denis O'Dell started work on the new film 'The Magic Christian' which was to star Peter Sellers and Ringo Starr.
Then, out of the blue, Paul called Denis and told him the project was back on. Denis O'Dell managed to put back the filming of The Magic Christian a few weeks so the Beatles could use Twickenham Film Studios, for their rehearsals.
The Beatles gathered at Twickenham Film Studios on January 2nd 1969. The film was director was Michael Lindsay-Hogg, who had previously directed The Beatles videos of Paperback Writer and Rain, and just a few weeks earlier, Hey Jude and Revolution. He had just finished directing the Rolling Stones show 'Rock and Roll Circus. The producer of the film was Denis O'Dell, but much later in the project Neil Aspinall asked if he could be credited as the producer instead, and Denis agreed.
Even though they were back in familiar surroundings, the rehearsals didn't go well from the start. John Lennon especially didn't like rehearsing in the middle of a huge film soundstage, rather than in a more intimate recording studio. John later said :
"In a nutshell, Paul wanted to make – it was time for another Beatle movie or something, and Paul wanted us to go on the road or do something. As usual, George and I were going, 'Oh, we don't want to do it, fuck,' and all that. He set it up and there was all discussions about where to go and all that. I would just tag along and I had Yoko by then. I didn't even give a shit about anything. I was stoned all the time, too, on H etc. And I just didn't give a shit. And nobody did, you know…
Paul had this idea that we were going to rehearse or… see it all was more like Simon and Garfunkel, like looking for perfection all the time. And so he has these ideas that we'll rehearse and then make the album. And of course we're lazy fuckers and we've been playing for twenty years, for fuck's sake, we're grown men, we're not going to sit around rehearsing. I'm not, anyway. And we couldn't get into it. And we put down a few tracks and nobody was in it at all. It was a dreadful, dreadful feeling in Twickenham Studio, and being filmed all the time. I just wanted them to go away, and we'd be there, eight in the morning. You couldn't make music at eight in the morning or ten or whatever it was, in a strange place with people filming you and coloured lights."
John Lennon, 1970
Lennon Remembers, Jann S Wenner
It also didn't help that John and Yoko were still heavily taking heroin, and John was barely communicating with the other Beatles.
Despite the less than ideal surroundings, the Beatles rehearsed many songs on that first day, but concentrated on Don't Let Me Down and I've Got A Feeling, both of which would feature on the famous 'rooftop concert' and the end of the month.
Discussions among the Beatles that day centred on where to do the big live show. Michael Lindsay Hogg and Glyn Johns wanted it to be in a Roman Amphitheatre in Tunisia. However, Ringo refused to go overseas to do it.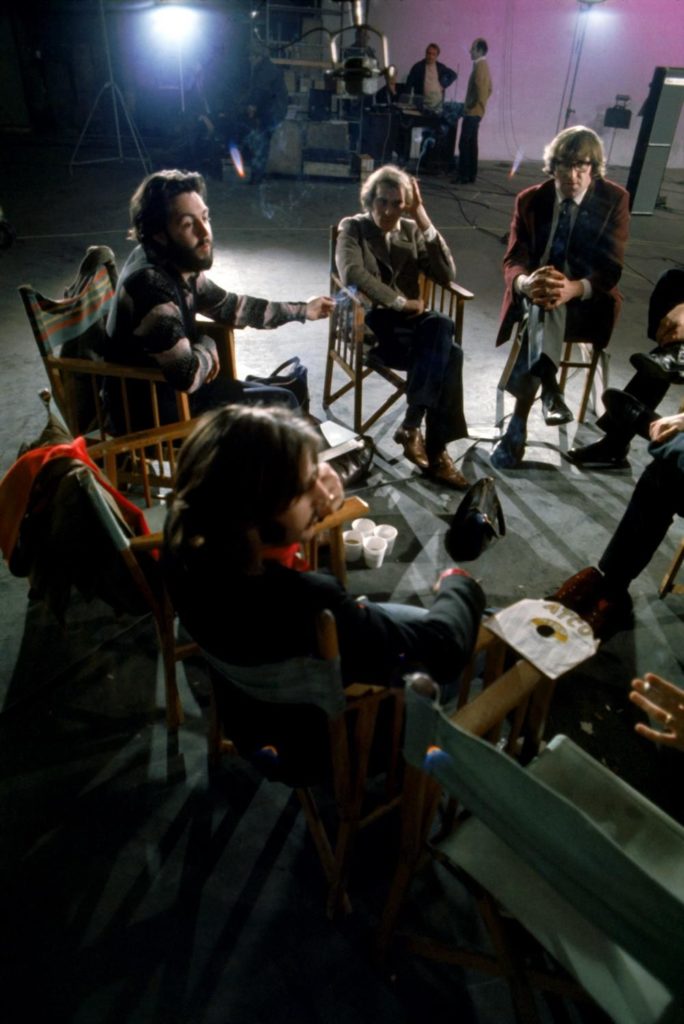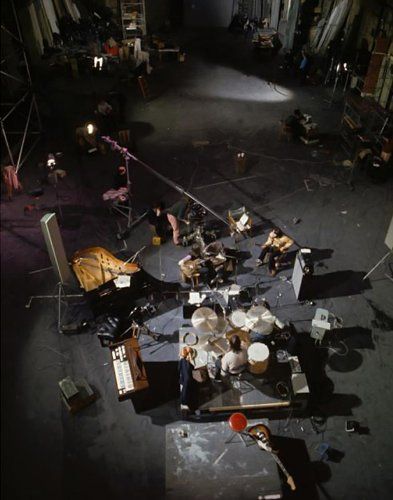 Paul, being the instigator of the whole project, came over as being very bossy, especially to George. George had spent the few weeks since the end of the recording of the White Album hanging out with Eric Clapton and Bob Dylan. Now he was back with the Beatles, and being treated as the younger brother, rather than the musical equal when he was with Eric and Bob. He especially disliked Paul telling him how to play his guitar. George would eventually walk out of the sessions on January 10th, saying to the others 'See you 'round the clubs'!
A week or so later, George was persuaded back, and session resumed in the Apple Studio at 3 Savile Row, to climax with the Beatles playing their 'rooftop concert'.
More on this story soon!
Blogger Richard Porter is a professional Beatles Tour Guide in London, and author of the book, Guide to the Beatles London. For more on his tours, and book, see http://www.beatlesinlondon.com
Tags:
Beatles
,
Beatles Get Back
,
Beatles Let it Be
,
Beatles rooftop concert
,
Beatles Twickenham