On October 5th 1962, the Beatles first single 'Love Me Do' was released. On the Parlophone 'red label', it featured the Beatles recording made on September 4th 1962, with Ringo Starr on drums. This was significant, as originally, the Beatles producer George Martin wasn't happy with Ringo's drumming that day, and had the Beatles remake 'Love Me Do' on September 11th with session drummer Andy White on drums. Ringo was given a tambourine to bang, much to his ever lasting chagrin.  When it came to the original release though, Ringo's version was chosen.
Things became confusing months later when Parlophone changed its record label to a black one, and at the same time, substituted the Andy White version of  'Love Me Do' as the single. This led to a big mistake decades later. On October 5th 2012, EMI were due to re-release  'Love Me Do' on its 50th anniversary, in an identical packaging and recording to the original release. We were sent copies of the new single to sell in the Beatles Coffee Shop. However, just 2 days before the release date, we were send an email from EMI to say the release had been cancelled to a 'production problem' and that we should send the singles back. Curious to what the problem was, I took a copy home and played it. The 'problem' was obvious right from the first few seconds – it was the wrong version of  'Love Me Do'! They had used the September 11th with Andy White on drums.
Because of the problem, the re-release of  'Love Me Do' was delayed for several weeks, so missed the 50th anniversary. Rather than send all the copies we had of the rejected version back, I kept a couple. (shhh, don't tell anyone!)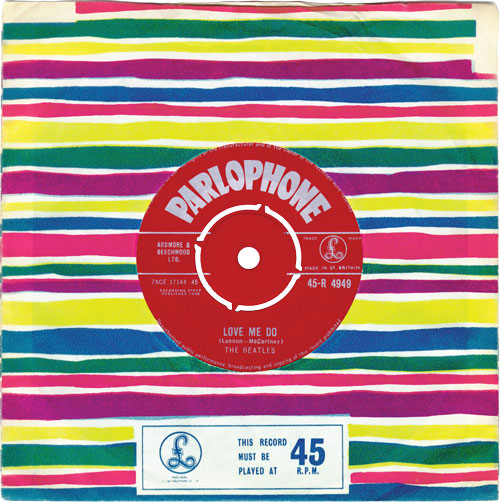 On October 5th 1982, Paul McCartney made a surprise visit to Abbey Road Studios, to celebrate the 20th anniversary of Love Me Do. Well, it was supposed to be a surprise – lots of Paul's fans (including yours truly!) found out Paul was going there. There was a group of about 10 fans outside when Paul arrived. He was totally amazed we were there – but was great about it. We all shouted out 'Happy Anniversary!'  to Paul, and he said thanks and stayed around to sign autographs.
Paul McCartney at Abbey Road Studios, October 5th 1982, the 20th anniversary of the release of Love Me Do
On the 30th anniversary, I was invited to a special party in Studio Two at Abbey Road. As well as celebrating the anniversary, the British Council launched its new Beatles exhibition, including a video that included a section of me and members of the London Beatles Fanclub having a meeting at the Liverpool Beatles convention.
At the party, Apple MD Neil Aspinall, and reps from EMI, cut the 30th anniversary cake, which had been baked by Paul McCartney's ex, Jane Asher!